Kitchen Under 100 is supported by our readers. When you purchase an item through links on our site, we may earn an affiliate commission.
Wondering if 700 watts microwave will fulfill your needs? Yes it will. There are some best 700 watt microwave that are powerful & have small foot print.
A 1000 watts microwave is considered a baseline wattage for fast reheating and cooking, but it is costly and space-consuming. With a small kitchen or dorm room and for only basic microwaving needs, a 700 watts microwave will suffice. It not only fulfills your needs but also saves space as most of the 700 watts models have a smaller footprint.
And no! You won't have to compromise on the functionality. It is where things get interesting as the design and the size of the microwave have an impact on how well the microwave will perform.
Sometimes, the smaller-sized microwaves with low wattage equate to 800-950 watts in performance. If you are short on budget, going for the best 700 watts microwave under $100 would be a wise decision.
To cut your work in choosing the best microwave oven we have tested various models of 700 watts and curated a list of best compact microwaves that you can buy at a highly affordable price. Don't miss to check out our top recommendations for the Best Microwave Under $100 and power-efficient 900 Watt Microwave.
10 Best 700 Watt Microwave for Small Countertop [MAY 2022]
IMAGE
PRODUCT
FEATURES
PRICE

Our Top Pick

1. BLACK+DECKER EM720CB7

Rating: 9.2/10

Solid stainless steel design
Powerful and compact
30 seconds express cooking
Dimensions: 17.3 x 13 x 10.2 inches

CHECK PRICE
2. COMFEE' EM720CPL-PMB

Rating: 9.2/10

11 microwave power settings
Multiple defrosting options
Energy saving mode
Dimensions: 17.3 x 13 x 10.2 inches

CHECK PRICE
3. Amazon Basics

Rating: 9.0/10

Works with Alexa
Compact and smart
10 cooking power levels
Dimensions: 17.3 x 10.1 x 14.1 inches

CHECK PRICE
4. Galanz GLCMKA07RDR-07

Rating: 9.3/10

Beautiful retro style design
Interior light for checking food status
Space saver and affordable
Dimensions: 17.81 x 13.75 x 10.31 inches

CHECK PRICE
5. Commercial Chef CHM770B

Rating 9.1/10

Quick heating performance
10 power levels
Lightweight & durable
Dimensions: 17.75 x 13.13 x 10.25 inches

CHECK PRICE
6. Farberware Classic FMO07ABTBKA

Rating: 9.0/10

Express cooking and re-heating
Defrost by weight and time
Interior LED lighting
Dimensions: 17.75 x 12.9 x 10.17 inches

CHECK PRICE
7. Kenmore 70723

Rating: 8.9/10

Child safety control lock
10 microwave power settings
6 cooking presets
Dimensions: 17.7 x 12.5 x 10.2 inches

CHECK PRICE
8. Sharp ZSMC0710BB

Rating: 8.8/10

Multiple defrosting modes
One touch express cooking
30 Instant start function
Dimensions: 17.3 x 12.8 x 10.2 inches

CHECK PRICE
9. Nostalgia RMOD7IVY

Rating: 9/10

Retro style turn dials
Compact & powerful
10-inch large turntable
Dimensions: 14 x 18 x 10.25 inches

CHECK PRICE
10. Danby DBMW0720BBB

Rating: 9/10

1-touch cook options
Child safety control lock
Auto defrosting option
Dimensions: 17.5 x 13.1 x 10.3

CHECK PRICE
1. BLACK+DECKER EM720CB7 – Best Stainless Steel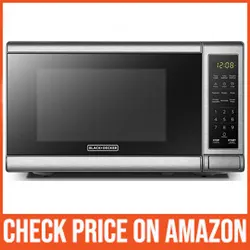 The first noticeable thing in the Black & Decker microwave is its sleek and compact stainless steel exterior designed to fit a cramped kitchen or dorm room.
The microwave's exterior measures only 17.3 inches wide with 10 inches in height. With an interior capacity of 0.7 cubic ft., the interior cavity has a measurement of only around 11 inches wide. So, it can't accommodate large dinner plates.
Black & Decker has a touchpad control panel on the side with LED digital display for the clock. It doesn't feature a pull-open handle and has a cutting-edge push open button for opening the door.
Black & Decker has six pre-programmed menus for popcorn, pizza, vegetables, beverages, frozen veggies, and reheating dinner plates, which lets you auto cook without any time estimation.
Being one of the best stainless steel microwave ovens, Black and Decker has ten different power levels, which start at the highest p10 level. The lowest level that just keeps your food heated is the p0. A Child safety lock makes it convenient to use in a family where kids are around.
One downside is that control panel function keys are challenging to read because of the dark grey color buttons and the black lettering over them.
In our findings, it performed almost flawlessly in defrosting and reheating without making it extremely hot than any other model with its two defrost options (by weight and time).
Apart from that, Black & Decker also has a 1-6 minutes express cooking option, and you can also add extra 30 seconds to the selected time. READ FULL REVEIW
PROS
Durable and sturdy stainless steel built
Easy to understand control panel
Child safety lock
Doesn't take up much space in the kitchen
CONS
Beep cannot be muted
Slide a bit when the button is pushed
2. COMFEE' EM720CPL-PMB – Best Oven with Mute Option
Comfee microwave is also a compact microwave with a black, stainless steel finish.
A budget-friendly option with almost the same features as in the Black and Decker, including the Sound on/off feature that is not available in Black & Decker.
So, if you get annoyed with the continuous "beep beep" of the microwave, you can mute all displeasing noises by pressing the "8" button for 3 seconds.
Other than reheating and defrosting, it offers six pre-programmed settings for cooking and baking some quick recipes like pizza, popcorn, soups, etc.
It also has interior lights which turn on during microwaving and turns off after the turntable rotation stops.
Apart from this, when you use ECO mode, the display will turn off in standby mode to reduce energy consumption up to 50% of normal usage.
Comfee's express cooking function lets you set the time instantly by choosing any of the numbers. For example, if you press 2, the cooking time will set to 2 minutes.
A 30 seconds addition button is also given to quickly add time without stopping the microwave.
The child lock settings lock the control panel for kids, so they don't accidentally touch the panel and temper with the cooking time.
Comfee microwave doesn't have a push-door button, and it may slide a bit when you open the oven door with extra force. We recommend you open the door carefully using both hands, especially when you have liquid inside to prevent spills.
PROS
Six pre-programmed auto-cook functions
Re-heat and de-frost quickly
Eco mode saves approx. 50% energy
Easily fits large dinner plate
CONS
Exterior gives a cheap look
Slide on counter due to its lightweight
3. Amazon Basics – Best Smart Microwave with Voice Control
With homes getting smarter and more and more appliances using Alexa, it's not surprising to see a voice-activated microwave.
Although smart devices are costly compared to their counterparts, Amazon's basic microwave is almost similar in a price range to other 700 watts microwaves.
This microwave oven is powered with Alexa connect kit technology that allows you to pair the appliance with an Echo device. The setup is simple, but you may need to keep your echo speaker closer to the microwave.
Although it lacks preset buttons as commonly found in other microwaves, the Alexa feature has preset instructions.
For example, you can say Alexa, microwave 2 ounces of popcorn, and the microwave will automatically decide the time.
Other than the voice control feature, the microwave is pretty basic with a simple and clean outlook. The control panel has ten power options, kitchen timer, defrost by weight and defrost by time.
It is loaded with a child lock feature, which is a bit complex to activate but worth it if you have messy kids at home.
With 10 inches removable turntable, this 0.7 cubic feet microwave is the best microwave for the money.
PROS
Can be operated via voice commands
Stylish, lightweight, and compact
Power levels can be easily adjusted
Reheat the food without leaving cold spots
CONS
Turntable motor is a bit loud
You have to purchase echo device separately
4. Galanz GLCMKA07RDR-07 – Best Under $100
It's a retro-style compact microwave for home use that gives an old-time feel but is designed to fit the modern concept.
Galanz microwave has an oval-shaped window, and this vintage-inspired microwave doesn't have a touch panel. Instead, it has a knob/dial that you twist to the right for adjusting timer and to the left for setting power levels.
It offers only 6 power levels and is mainly used for defrosting and reheating. The Galanz 700-watts countertop microwave has a space of 0.7 cubic feet which works great for small families.
Apart from that, it has a 9.6 inches turntable that is big enough to hold a dinner plate. The turntable heats the food evenly without cold spots.
While the food is in the microwave, the LED light will illuminate the interior and let you peek through the oval glass window.
The easily readable LED display shows the remaining time to cook the food. You will hear three beeps after the cooking process is complete.
It has sturdy construction with a chrome pull-open handle instead of a push-door button.
The child-lock feature adds an extra level of security for families with kids. Overall, it is a good solo microwave oven.
PROS
Beautiful retro style design and controls
360° rotation re-heat food evenly
Child lock prevent kids from manipulating cooking time
Inexpensive 700 watts microwave
CONS
Absence of back-lit makes reading of dial and buttons difficult
5. Commercial Chef CHM770B – Best for Small Kitchen
Commercial Chef is a boxy-looking black microwave with a capacity of 0.7 cubic ft.
It takes up small space on the counter due to its small footprint, which is why it can be the best microwave for college kids or people living in small apartments.
Being powered by only 700 watts, it can perform basic reheating, defrosting, and cooking only. This microwave is good for basic purposes with not many bells and whistles.
The most appealing feature of this microwave is its 6 pre-programmed settings that allows you to make pizza, popcorn, soup, etc. with just a single push of a button.
Another worth appreciating feature that provide additional convenience is fast defrosting and defrosting by weight.
The microwave also lets you leverage ten different power levels, from high power to warm power, giving you complete control over how you want to cook the food.
Like many other 700 watts microwaves, it has a led display along with a child-safety lock to safeguard the kids from any accident. The turntable inclusion in the microwave ensures even cooking and reheating.
Cleaning up the microwave is a hassle-free affair, and the turntable is also dishwasher safe.
If you are confuse choosing between Microwave and Toaster oven, you must read this
Detailed Comparison
.
PROS
Easy to adjust 10 power levels
6 pre-programmed cook settings
Turntable is dishwasher safe
Suitable for small kitchen, studio, and apartment
CONS
Plastic built makes it a bit fragile
Large plates are a bit difficult to adjust
6. Farberware Classic FMO07AHTBKJ – Best for Countertop
Faberware is visually appealing with its sleek stainless steel exterior that is stylized with round edges to fit any kitchen style. It's not just the style that fits, it also provides excellent value for money with its worth-noting features.
Being a compact microwave, its inner cavity measures only 0.7 cubic ft. which can accommodate a 10 inch diameter dinner plate but you can't fit in an 11 inches plate without tilting it.
Whether you want instant pizza, buttery popcorn, or craving ravishing baked potato, you will find a one-touch pre-programmed setting for instant microwaving.
It also offers defrosting by weight and time to speed up the cooking process.
As per our experience this is a quiet microwave oven and product very minimal sound when operational.
The child lock feature in Farberware microwaves locks the control panel for unsupervised kids and comes in handy during microwave cleaning.
Faberware, like many other models of 700 watts range, has provided visibility convenience by adding LED display and interior lighting, which lets you watch the cooking of food through the window.
Though it has low wattage, it heats up swiftly and gets steamy if we set excessive time. That's why we recommend using maximum power level and set minimal time.
Memory settings is another handy feature to store presets that you use most of the time.
PROS
Stainless steel built makes it durable and sturdy
Defrost and re-heat the meal quickly
Fits large dinner plates easily
Easy to install and operate
CONS
You cannot mute the beep
Footprint is not small
7. Kenmore 70723 – Best 0.7 Cubic Feet
Kenmore is an easy-to-use stainless steel countertop microwave that can comfortably fit in a small kitchen and efficiently fulfills the purpose of basic reheating and cooking.
Like others, this one is also has a 700 watts of heating power with ten power levels to adjust from high to medium or low heating.
To quickly start the re-heating function, press the 'Start' button once to perform 30 seconds or twice for performing 1 minute cooking or defrosting at high temperature.
The appliance is powered with a very unique feature which is concaved reflection system (CRS) that enables it to cook or warm the food evenly without leaving any cold spot.
This microwave also build steam very quickly, so it is advised to wipe or keep the door open for a while to let it dry after every usage.
You can easily active some features with just a single touch. It include 6 auto cook options, re-heating, and defrosting of frozen meal.
The control panel has a digital LED display that shows the remaining cooking time.
There is no LED light bulb inside the microwave, so it will remain dark when you are microwaving food and can't watch what is happening inside.
It has a carousel turntable of 9.96 inches that rotates when the microwave is one, it helps in cooking or warming the food evenly. All in all, it is one of the best 0.7 cubic ft microwaves that meets the need of any kitchen.
PROS
Solid stainless steel built enhance its durability
Easy to install and use
Powerful reheating and defrosting feature
Easy to activate child safety lock
CONS
Missing kitchen timer option
Door sticks a bit while opening
8. Sharp ZSMC0710BB – Best Affordable Microwave
Just like Amazon Basic with a digital assistant, Sharp ZSMC0710BB microwave also has Alexa integration but with a higher price tag. This model full-fills basic microwave needs and price under 100 dollars.
The compact black model is made of sturdy stainless steel push open button and has an LED display that shows the remaining re-heating or cook time.
As for performance, it has outshone many competitors by showing good results in cooking. Its cooking time a bit slower compared to other models in the list, but ensures your meal is cooked evenly.
For instant microwaving, you can simply press 1-6 express heat buttons for selecting your desired time of microwaving
Like other models in the list, this oven also offers multiple defrosting options. You can set the defrost timer manually or let the microwave automatically defrost the frozen food.
Sharp microwave has a carousel turntable of 10 inches that evenly heats the food. As per our findings the turntable is big enough for accommodating large dinner plates. You can't put anything more than this due to its compact size.
PROS
Solid steel built makes it highly durable & sturdy
Three different defrosting modes
Glass turntable is dishwasher safe
Good for small to medium size countertop
CONS
Door opening button is a bit stiff
You have to read user manual to understand basic operations
9. Nostalgia RMOD7IVY – Best with Rotary Dials
Nostalgia's retro-style microwave is a timeless classic that takes its cue from the past by bringing back the old quality, design, and value.
Nostalgia 700 watt microwave has an oval window with a chrome handle instead of a push-open button.
On the front panel you will find a retro style knob. You have to rotate the knob to set the cooking time and then push to start cooking or re-heating the food.
This microwave oven has easily navigable settings with LED display and clock.
The best part is it has 12 pre-programmed settings that are highlighted in the digital display when we choose the setting. So, your favorite food can be auto-cooked without any hassle.
The intuitive interface also includes express cooking, delay timer, and power setting for multi-sequence cooking. Its control panel is different from other ovens but is user-friendly.
It has a 10 inches glass turntable, which is big enough for placing two big coffee mugs or a large dinner plate. It defrost, cooks and re-heats the food evenly.
As per our findings the only drawback this microwave oven has, it sounds a bit loud when operational.
PROS
Highly durable and long-lasting built
Decent reheating and defrosting power
12 pre-programmed settings
Have a small foot print
CONS
A bit expensive
Difficult to figure out settings
10. Danby DBMW0720BBB – Best Inexpensive Oven
Danby microwave is the perfect fit with its size, functions, and price. The modern-looking Danby countertop microwave come in 3 colors; black, white, and stainless steel.
With 0.7 cubic ft. space, this low watt microwave is one of the best microwaves under $100.
It has all the basic and most-needed features, including one-touch presets that let you make some quick meals like popcorn, baked potato, and soup.
Ten different power levels let you adjust power to a maximum of 700 watts so you can select the power level best suited to the type of food you are cooking.
You also get to choose 1-6 minutes of express cooking. Being a low-wattage microwave, it takes more time to cook the food till it's completely done.
We also tested Danby's defrost functionality and its both defrosting options works flawlessly. We found no cold spot in defrosted food which is a big plus for any microwave.
A 10-inches turntable is also included. It can accommodate two coffee mugs side by side or a plate sizing below 10".
A handy child lock feature which can easily be activated by pressing and holding "stop" button for 3 seconds. This prevent the kids from making any changes in the cooking time.
It has a cord length of 59 inches, long enough to connect it with any socket in the kitchen or dorm.
PROS
Beautiful and sleek design
Very simple and easy to use cooking menu
Quieter than other microwaves
Easy to activate child lock feature
CONS
Not recommended for small kitchen
Microwave Buying Guide
Here is a video guide to choose a right microwave for your needs.
Benefits & Limitations of 700 Watts Microwave
Footprint
A 700 watts microwave usually has an internal capacity of 0.7 cubic feet. These are compact microwaves that can fit any countertop, dorm room, or office.
Price
These microwaves are budget-friendly options as compared to high-end models.
Features
Being at the smaller end of the microwave range, they don't offer many features like auto shutdown or baking and grilling.
Food
Unless you plan to bake cookies or roast a chicken in these compact microwaves, they can efficiently perform essential microwave functions for daily usage.
To cut your work, we have extensively researched various models of 700 watts microwave and curated a list of best compact microwaves under $100.
Frequently Asked Questions – FAQs
What are the best 700 watts microwave to buy?
BLACK+DECKER EM720CB7 – Best Stainless Steel
COMFEE' EM720CPL-PMB – Best Oven with Mute Option
Amazon Basics – Best Smart Microwave with Voice Control
Galanz GLCMKA07RDR-07 – Best Under $100
Commercial Chef CHM770B – Best for Small Kitchen
Farberware Classic FMO07AHTBKJ – Best for Countertop
Kenmore 70723 – Best 0.7 Cubic Feet
Sharp ZSMC0710BB – Best Affordable Microwave
Nostalgia RMOD7IVY – Best with Rotary Dials
Danby DBMW0720BBB – Best Inexpensive Oven
Is a 700-watt microwave powerful enough?
While a 1000 watts microwave is considered a standard for fast cooking and heating, a 700 watts microwave is good enough for small kitchens and the basic need of reheating or defrosting. So, if your priority is to different varieties of food quickly in large quantities, you should choose a higher wattage microwave. However, if you are a small family or a student, a 700 watts microwave would suffice your needs.
What can you cook in a 700-watt microwave?
A 700 watts microwave is made to fulfill the basic needs of reheating leftovers, warming beverages like milk or coffee, or thaw frozen foods. Along with that, you can make potatoes, popcorn, vegetables, pizza, or simple foods in small quantities. For complex recipes, you will require a higher wattage microwave.
Will a 700-watt microwave pop popcorn?
Yes, a 700 watts microwave pops the popcorn. Microwaves with less than 700 watts can't pop the popcorn. Many 700 watts microwaves are optimized for the popcorn option and require 2 minutes to pop the corn, whereas low wattage (lower than 700 watts) microwaves don't build up the steam enough to rupture the kernel, but 700 watts quickly build the steam inside, sufficient to break the kernel with a loud "pop" sound.
How much power does a 700W microwave use?
Any microwave has two different power watts mentioned at the back or in the manual. One is called input wattage; the other is output wattage. In a 700 watts microwave, 700 watts is the output wattage used to cook/reheat the food. Input wattage which is drawn from the home circuit is greater than output wattage. The rest of the power (power difference in input and output power) is used to rotate the turntable, light LED, or run the mechanical parts.
The microwave's efficiency is usually between 60 to 88%.
It means: A 700 watts (output power) microwave = Input wattage of 1076 watts (on 65% efficiency).
So, a 700 wattage microwave uses 1076 watts power if it has 65% efficiency.
From there, you can also calculate the current in the ampere that will be required by the microwave using the formula.
Current in ampere = power/voltage
Can you use a 700W microwave in a caravan?
Before choosing a microwave for a caravan, you should keep the weight, footprint and power in mind. Caravans have weight, size and power limitations, and you should adhere to them.
Since a 700 watts microwave has a smaller footprint and low weight, you can use it in the caravan. But make sure that you get adequate power from the caravan pitch to source the microwave. Another thing to keep in mind is that you will consider input power for the microwave rather than the output power.
So, if your 700 watts microwave utilizes 1100 watts input power, it means that 5-6 amp caravan pitch will let you use a 700 watts microwave.
Can you use a 700W microwave in a dorm room?
Yes, a 700 watts microwave is compact, and you adjust it anywhere in the dorm room. Just make sure that the microwave has enough clearance space for ventilation. Use a rubber pad underneath the microwave if you have placed the microwave near the edge, and the microwave tends to slide while opening the door to avoid any accident.
Wrapping Up!
A 700-watt microwave is considered a low-end microwave that is built to save counter space. However, you will hardly notice any difference in performance and reliability compared with an 800 watts microwave. Their size and design have made it possible to give such heating efficiency. They have all the essential features that users rave about and are intuitive and user-friendly.