Kitchen Under 100 is supported by our readers. When you purchase an item through links on our site, we may earn an affiliate commission.
Ceramic cookware is the best alternative of Teflon and after testing multiple brands we have compiled this list of the best ceramic non stick frying pans.
With the increasing awareness of what we consume and nourish our bodies with, the concept of the safe pots and pans has also arisen. Traditional non-stick pans, made of a Teflon coating PTFE, can release toxic fumes at a temperature above 500°F.
So, home chefs and cooks are turning to healthier and "greener" alternative options of "ceramics". With lighter-weight, high-heat endurance level, even heating, and non-reactive surface, the new ceramic pots and pans does not disappoint.
Amidst the sea of options, we have researched and tested dozens of pans to select the 10 best ceramic nonstick cookware for you. Also check out our recommendations for the best non stick pans without Teflon and our list of top performing non stick pan for high heat.
10 Best Ceramic Non Stick Frying Pans [MAY 2022 Updated]
KitchenUnder100.Com tested over 50 ceramic coated non-stick pans and compiled this list that will help you in quick decision making before proceeding to buy healthy non stick cookware.
IMAGE
PRODUCT
FEATURES
PRICE

Our Top Pick

1. Gotham Steel

Rating: 9.3/10

Large 12.5 inch cooking space
Triple layer non-stick coating
Can withstand metal utensils

CHECK PRICE
2. GreenLife Soft Grip

Rating: 9.3/10

Suitable for gas stove
PFAS and PFOA free ceramic coating
Very easy to clean

CHECK PRICE
3. Blue Diamond

Rating: 9.2/10

10x long lasting nonstick coating
Oven safe up to 600°F
Warp- and wobble-free base

CHECK PRICE
4. Home Hero

Rating: 9.2/10

Ultra durable copper ceramic coating
Compatible with induction stove top
2.5 mm thick anti-warp base

CHECK PRICE
5. Michelangelo

Rating: 9.2/10

Durable and scratch-resistant coating
Heat evenly with no hot spot
Oven safe up to 450°F

CHECK PRICE
6. GreenPan Chatham

Rating: 9.2/10

Toxic-free nonstick coating
Quick and even heat distribution
Oven save up to 600 degrees

CHECK PRICE
7. TECHEF CeraTerra

Rating: 9.1/10

Compatible with induction cooktop
Double-riveted strong handle
Oven safe up to 450ºF

CHECK PRICE
8. GreenPan Prime Midnight

Rating: 9.1/10

Scratch-resistant nonstick coating
Oven safe up to 600°F
Very easy to clean

CHECK PRICE
9. DaTerra Cucina

Rating: 9.1/10

4-layer ultra-smooth nonstick coating
Comfortable and stay-cool handle
Oven safe up to 450°F

CHECK PRICE
10. EPPMO

Rating: 9.0/10

Heat quickly and evenly without hot spot
Compatible with all stove tops
Oven safe up to 500° F

CHECK PRICE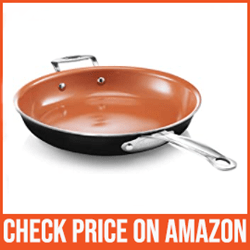 Gotham Steel is famed for its ti-cerama technology that bonds the strongest Titanium and ceramic coating to achieve the non-stick attribute.
It's promoted in the U.S. by Esmon inc. and has gathered a market and consumer base for the brand.
Previously, we reviewed their hammered collection pan in the best 12-inches non-stick pan. The earlier reviewed pan belonged to their most expensive line. This one is moderately priced with a similar non-stick ability and having a diameter of 12.5 inches.
Being a 12.5 inches large frying pan, it acts as a workhorse for your kitchen needs, cooking and searing heaps of food for the family.
Angular slopes combined with low weight (only 1.75 pounds), the pan is perfect for flipping, turning, and maneuvering your food with a spatula.
We liked the stainless steel supportive handle at the other side of the pan that aids in lifting the hot pan filled with food, something that we didn't see in the hammered Gothan pan
Due to stainless steel handles and the strong coating, you can use the pan in a blazing oven with a temperature of up to 500°F.
Although it's a dishwasher-safe, but we recommend you not to wash it in the dishwasher often. Repeated dishwashing can chip off the non-stick coating faster than usual.
PROS
Large enough for cooking big meals
Oil does not slide to the edges
Oven safe up to 500° F
Highly durable and sturdy
CONS
Cleaning in dishwasher will damage its coating
Be careful handle gets hot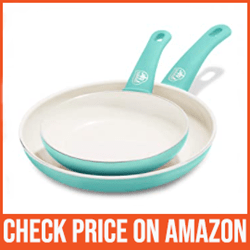 The GreenLife pan combines convenience, quality, and looks. The soft-pastel-colored non-stick frying pans have a light-colored interior, the type of pan that graces Instagram influencer's cooking posts.
This electric and gas stovetop safe non-stick pan is capable of fulfilling all your cooking needs. Whether you want to make fluffy omelets, searing steaks, or sauteing vegetables.
Constructed with GreenLife's patented "Thermolon", these pretty pans are free of nuisances of PTFE, PFOA, and other toxic materials.
The pans are from their collection of soft grips, named after their comfortable handles constructed with Bakelite. The handles remain cool while you flip, stir or saute your food.
But the Bakelite handle doesn't let it be used on a hotter oven and has a temperature threshold of 350°F.
The hole at the end of your pan is meant to hang vertically on the wall for easy accessibility and enhance visibility (who wants to hide pretty pans).
Outer angled rims of the pan ensure drip-free transferring of food while dishing out. As for its non-stick quality, your eggs and crepes slide out of the glassy, non-porous surface easily.
One of the huge perks of these pans is their light-weight that makes flipping and maneuvering the food a breeze.
The only hurdle in cleaning the non-stick pan is the rivets in the interior. GreenLife pans have simplified cleaning and maintenance by their rivetless interior, so you won't have to deal with stuck or burnt food build-up.
PROS
Has a very cool design
Free from toxic materials
Handle is grippy and remains cool
Excellent non-stick properties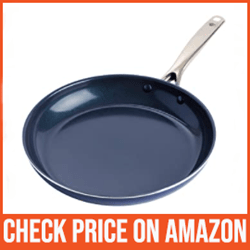 Blue diamond pans have industrial diamond dust fused in their ceramic coating that gives these non-stick pans an extra shimmer.
All their marketing frenzy and claims have surely got the attention of consumers. So, we decided to research and test on the hype of their non-stick pans.
The 12-inches non-stick pans have flared edges and are designed with an ideal height to lower oil splattering and provide sufficient surface area for cooking.
Stainless steel handles are firmly bolstered with rivets for the balance and strength of the handles. Since the stainless steel doesn't have a sheath of rubber or plastic, it can withstand high oven heat of up to 600° F.
However, the mentioned temperature is for the oven only. Direct heat over the stove should be kept at medium.
And yes, the forged base gives it sturdiness by making it warp-resistant. Coming to the non-stick attribute of the Blue diamonds, surprisingly, the non-stick ability of the pan is true to its claim.
The delicate foods such as fish fillets and eggs also release the surface easily. But, an oil coating on the base makes the experience smoother.
As opposed to their claim, Blue Diamond pans are not scratch-resistant just like any other ceramic pan. And to lengthen their coating's durability, we advise you to handwash the pans.
PROS
Durable and long-lasting design
Little to no splattering of oil
Pan is oven safe up to 600° F
Flat surface, won't wobble on stove
CONS
Surface is not scratch-resistant
High heat can damage its coating
4. Home Hero – Best 8 Inches Pan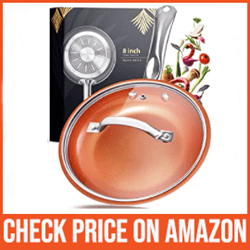 If you need a small or entry-level non-stick pan for eggs, the 8 inches Home Hero copper pan with ceramic coating can be your ideal option.
This pan has an interior glazed with copper coating and Aluminum at its base. Aluminum's high heat conductivity ensures that the pan heats up quickly and evenly.
The pan comes with a tempered glass lid and is best for small families. It flaunts the stainless steel handle fastened with rivets in the interior. The handles have a comfortable grip but get too hot. So, keep a kitchen mitten nearby if the pan is on the stove for a long time.
The pan has a bonded stainless steel plate at the bottom that makes it ready for induction burners. Not just that, the pan is also oven-proof even at high temperatures.
The pans have a thick-gauged bottom of 2.8 mm, yet they are lightweight and easy to handle.
The non-stick coating doesn't disintegrate sooner, and if properly maintained, the interior surface also resists scratches.
The cleaning process requires just a dash of dish soap, but we found the residue near interior rivets requires a thorough cleaning.
The pan's cooking surface is not flat, so the oil or liquid gathers around the edges of the pan.
PROS
Heat quickly and evenly
Suitable for induction burners
Ultra non-stick surface
Very easy to clean
CONS
Surface is not so flat so expect some pooling
Handle is not comfortable to hold
5. MICHELANGELO – Best Large Non-Stick Pan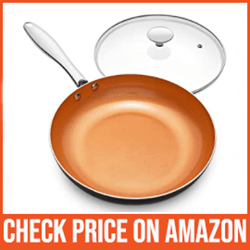 On the outset, Michelangelo pans resemble Gotham Steel cookware as both have ceramic finishes and are reinforced with Titanium. The titanium reinforcement makes the cookware exceptionally strong at half the weight of stainless steel.
The 8-inches skillet's shape has low side walls that are best-fitted for pancakes, omelets, sautéing vegetables, or roasting small cuts of meat.
Low sides also make maneuvering and turning the food with a spatula easier. The outer rims are rolled, so no oil dripping and mess on the stove to clear out later.
The handles are round stainless steel that feels slippery, especially if your hands are oily and get hot too. You won't see extra helping handle here like we get in Gotham Steel pans.
The lack of rubber or material sheath allows the pan to go into the blazing oven of 450°F.
The tri-ply pans are soldered with a stainless steel base so that you can use them on induction burners too.
The pan's non-stick finish is so slick that food ingredients escape from its lower edges when you stir food with a spatula. This 11-inches non-stick pan is great for home use, and you get a glass lid with the pan, making it affordable and desirable.
PROS
Highly durable and sturdy pan
Oven and induction safe
Even distribution of heat
Flat surface prevent pooling of oil
CONS
Not suitable for high heat
Handle is a bit slippery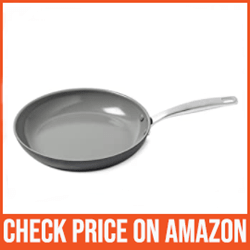 GreenPan duo set is designed to be the non-stick pan for everyday use, catering to all the needs due to different sizes, be it breakfast with just eggs or a full-fledged dinner.
The skillet set is made of hard-anodized Aluminum with reinforced diamonds and their signature "Thermolon" technology to make it more resilient.
The gray pans have sloped walls with just the right height that makes food contained in the pan.
The drip-free rolled edges make pouring of prepared food into the dish very convenient.
Its stainless steel handle is firmly secured with rivets in the interior. The riveted interior of the pan may cause food and gunk build-up if not maintained properly.
GreenLife pan has the edge over GreenPan in this regard due to its rivetless and smooth interior.
The best point is these duo-set can withstand a whooping 600°F in the oven without deforming or damaging the coating.
These pans don't have welded stainless steel at their bottom and are not induction burner compatible, but the pans are still stoutly built, sturdier and warp-resistant.
The non-toxic pans' non-stick performance is also exceptional. From searing and braising to cooking omelets and evenly browning crepes, everything is effortless with the non-stick GreenPans.
PROS
Lightweight and durable
Oven safe up to 600°F
Made of PFOA and PFAS free materials
Excellent non-stick ceramic coating
CONS
Rivets area is difficult to clean
Not a dishwasher safe pan
7. TECHEF CeraTerra – Best Induction Compatible Pan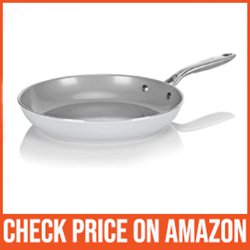 The Korean-based non-stick pan is coated with ceramics and has Aluminum at its center.
TEChef gray-colored 12-inches pan is large enough to cook dinner for the whole family. The heavy-gauged non-stick pan has a magnetic circular base at the bottom of the pan, making it induction-ready cookware.
You can enjoy the charm of brushed stainless steel, giving it a matte sheen and the practicality and comfort of a non-stick with a TeChef pan.
The brushed stainless steel handle can get hot if it remains on the stovetop for too long. The pans are sturdy, scratch-resistant, and don't warp, but they are heavy.
The weight and pan's hot handle may get in the way of flipping the food with your wrist movement.
The pan heats evenly, browning and roasting the food perfectly. The ceramic glaze of the pan can disintegrate if you cook on high heat, resulting in chipping and flaking.
The pan is oven safe up to 450° F, so you can finish off your cooking in the oven without changing the pan.
Don't use abrasive metals or sponges during the cooking or cleaning process to protect and enhance the durability of the non-stick coating.
PROS
Suitable for induction cooktops
Surface is wrap and scratch-resistant
Quick and even distribution of heat
Handle is comfortable and remain cool
CONS
Not suitable for high heat
Heavy weight makes flipping difficult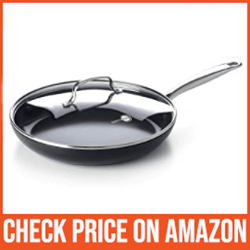 Another Greenspan on our list that we couldn't resist including, thanks to its non-stick capabilities.
The Belgian-based is famous for its non-toxic, non-Teflon pans that are a healthy and greener alternative option. This pan belongs to their Midnight healthy ceramic line.
GreenPan Chatham pans were light gray in color. So if you are afraid of stains or want a dark-colored black nonstick pan, GreenPan's midnight can be your alternative option.
This pan is also hard-anodized and has industry-grade diamond dust infused in its non-stick surface. The shimmer and shine of diamond dust on the black surface remind us of starry nights.
Diamonds are the best heat conductor and enhance the strength of the pan.
The pan's structure is warp-resistant even after a sudden temperature change and doesn't dent even if you accidentally knock them on the floor.
Apart from their stainless steel handle and the capability to go into the hotter oven (600°F), this pans is stackable and saves space in the kitchen.
Due to their "Thermolon" coating, even stickier food releases easily. The pans heat up quickly and evenly. But these pans are not compatible with the induction ovens.
PROS
Oil won't slide around edges
Oven and broiler safe
Non-stick coating won't chip or peel
Heats up quickly and evenly
CONS
Not safer for induction-top
Cannot use cooking spray
9. DaTerra Cucina – Best Pan for Gas Stoves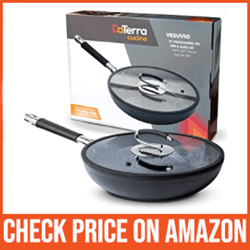 Donning a sleek and futuristic look, DaTerra Cucina's non-stick pans are surely worth the splurge and the best cookware for gas cooktops.
The Italian-made non-stick pans have engineered 4-layers to intensify their strength. The natural-coated pans have a sandblasted Aluminum base that aids in rapid and even dispersion of heat.
From browning, searing, braising to making fluffy frittatas, steaks, or vegetables, DaTerra Cucina pans don't disappoint in any aspect of cooking.
The pan has flared sides with a generous depth that makes pan-flip movement or usage of spatula a fun and effortless activity.
The 11-inches pan with such a depth is surprisingly lightweight yet sturdily built that resists warping.
The round stainless steel handle has a sheath of Silicone that remains cool to touch. Even with the Silicone sheath at the handle, the pans can go into a hotter oven with a temperature threshold of up to 450 degrees.
The pan comes with a glass lid with a one-of-a-kind C-shaped handle and a silicone rim surrounding the lid, ensuring the pan is properly sealed.
Since the covering lid is tightly sealed, the hole in it doesn't let the steam build up in the pan. Besides that, the glass lid is also oven-proof.
The non-stick quality of this splurge-worthy pan is matchless. Eggs and food slid right out in the dish without any need for scraping and scratching.
On the downside, the pan is not compatible with the induction stovetop.
PROS
Lightweight, sturdy and durable
Handle remain cool during cooking
Glass lid is oven proof
Non-stick coating won't peel-off
CONS
Not compatible with induction cooktops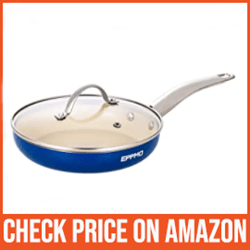 The last on our list is EPMO non-stick frying pans. The pan heats up quickly and evenly due to its construction with a triple-ply, having Aluminum sandwiched between the non-stick ceramic coating.
The 10-inch pan has a smooth cream-colored interior coating with an exterior eye-catching Sapphire Blue finish.
This pan is sturdy but has steep walls, as compared to GreenLife or Greenspan's perfectly sloped walls.
The depth allows maximum cooking surface, and thus the pan can be used to cook an average amount of meals, as opposed to frying eggs only – a go-to everyday pan for a couple or a medium sized family.
The stainless steel handle has an inward curve to it which makes gripping comfortable and easier.
The handle is secured tightly with double rivets in the interior, ensuring that it doesn't lose in the course of its lifetime.
Combined with its lightweight structure, the pan is perfect for flipping with a flick of the wrist.
The non-stick performance is praise-worthy, and you only need a little coating of oil to release the food from the non-stick surface.
However, the pan's surface is raised a bit from the middle, and eggs, oil, or liquid slide to the lower edges of the pan.
It comes with a lid that perfectly seals the pan, making it heat faster and is also oven-safe with a maximum temperature level of up to 500°F.
Although cleaning the pan doesn't require elbow grease, the light-colored interior calls for maintenance and cleaning to avoid stains. Baking soda does the trick of managing tough stains on this pan.
PROS
Very beautiful and attractive design
Extremely durable triple-ply construction
Heats faster on stove and oven safe
Suitable for all stove-tops
CONS
Surface is a bit raised from middle
Suitable for low to medium heat only
Buying Guide For Ceramic Non-Stick Pan
Below are some key factors to consider before buying a non-toxic ceramic nonstick cookware set:
Induction Compatibility
These pans need to be encapsulated or welded with a metallic casing to be compatible with induction burners. Many manufacturers don't make their pans befitted for induction stovetops. So, if you own an induction burner, inspect the pan's incompatibility properly.
Handles & Oven-Safety
Handles are the pan's component which also determines the pan's balance. Its material determines whether the pan can be used in a blazing hot oven or not. The stainless steel handle gets hot but increases the temperature endurance level of the oven. Bakelite or silicone handles don't get hot but limit their usage in the oven.
Warranty
Since the 100% ceramic cookware is more prone to wear and tear than other traditional brands, you should always check their warranty and clauses regarding limited warranty. So, if any problem arises, you can return or refund the item. Their warranty is also indicative of their non-stick quality and durability.
Frequently Asked Questions – FAQs
What are the best nonstick ceramic pans in 2022?
Gotham Steel – Oven Safe Pan
GreenLife Soft Grip – Non Stick Pan without Teflon
Blue Diamond – Best 12 Inches Frying Pan
Home Hero – Best 8 Inches Frying Pan
Michelangelo – Large Non-Stick Pan
GreenPan Chatham – Best for High Heat
TECHEF CeraTerra – Best Induction Compatible
GreenPan Prime Midnight – Best for Making Eggos
DaTerra Cucina – Best Cookware for Gas Stoves
EPPMO – Best Non-Stick Pan with Lid
Why should you choose ceramic non-stick frying pans?
Ceramic non-stick pans are the best Teflon-free alternative that doesn't emit toxins even on high heat. The pan's colored coating gives them a bright and elegant appearance. Also, these pans are light in weight yet built sturdily. The heat dispersion of ceramic-coated pans is rapid and even. Not just this, the heat retention of these coated pans is also remarkable. And most of all, Ceramic pans are more affordable than stainless steel or any other pan.
Is ceramic non-stick better than non-stick?
Ceramic non-stick pans are not made of 100% Ceramic. Instead, they are coated with ceramic glaze and have a metal base. 100% ceramic pans and pots are constructed with minerals, clay, and sand. Non-stick ceramic pans will degrade over time, but 100% ceramic pans can last a long time. However, real ceramic pots are way too expensive. The heat retention of real ceramics is better than the non-stick coated pan. But when it comes to induction compatibility, coated ceramic pans have a stainless steel base to make induction compatible, whereas real ceramic pans are not fit for induction stovetops.
Are ceramic non-stick fry pans good?
Yes, ceramic non-stick pans are good in terms of safety and appearance. The ceramic non-stick pans are PTFE and PFOA free, and their bright colors liven up the dreary-looking kitchen too. Their non-stickiness deteriorates over time, but these are lightweight and affordable than Teflon-based non-stick pans.
Is ceramic non-stick better than Teflon?
Teflon non-stick pans have PTFE in their coating, a substance that emits toxic fumes at temperatures exceeding 500°F. It limits their heat endurance and searing and cooking on high heat. In terms of safety, ceramic non-stick pans are preferred, as they aren't associated with any potential health risk.
However, when it comes to non-stick performance, the ceramic coating tends to wear off sooner than Teflon. Ceramic non-stick pans also win in terms of looks due to their playful colors.
Wrapping Up!
Ceramic non-stick cookware has come a long way from its launching period and has improved its non-stick coating making it more resilient. You can enjoy the convenience of non-stick without any nagging health risk, that too, in an affordable price range. However, choosing ceramic non-stick cookware soon becomes a headache and nauseated task in the sea of options. So, we have curated a list of the best ceramic nonstick pan based on extensive research and tests of countless hours. Whichever brand or set you choose, adhere to the maintenance and usage guidelines; so you don't have to replace your cookware sooner.