Kitchen Under 100 is supported by our readers. When you purchase an item through links on our site, we may earn an affiliate commission.
There is no greater satisfaction than seeing your burger patties, pancakes, and crepes flip without gluing to the surface. But cooking for the whole family in non-stick requires a pan with enough depth, cooking surface, and diameter of a non-stick pan.
A 12 inch non-stick frying pan is considered a standard for cooking for all family members.
But here comes the twist!
A pan's diameter is measured from one side of the rim to the other side of the rim. The cooking surface depends on the flared edges of the pan. The more slanting sides mean less cooking surface, which means having to compromise on the cooking quantity.
The weight of the pan also matters in the easy maneuvering of the pan. So, we should take into consideration all the design elements, non-stick performance reliability before buying the best 12 inch nonstick pan for the whole family. Don't miss our recommendations for the best non stick pan without Teflon.
Best 12 Inch Non-Stick Frying Pan 2022 [Dishwasher & Oven Safe]
Kitchen Under 100 have gathered reliable non-stick frying pans that can survive daily cooking and are perfect for your family size.
1. Cuisinart – Best Frying Pan with Lid
Cuisinart nonstick pans, hardened by a chemical electrolyte process, is a non-porous and tough nonstick pan at the heart of which lies Aluminum.
With a graphite finish exterior and a reinforced Titanium interior surface, the nonstick pan can withstand the ravages of daily usage.
The aluminum core heats evenly and fast, and we like the fact that the non-porous surface of the pan releases the fragile fish, frittata, and eggs without sticking to the surface. Just a thin coat of oil does the trick to cook these perfectly.
The solid stainless steel handle remains cool to grip even when cooking for a longer period. The handles are perfectly balanced with the weight of the pan.
Another bonus point of Cuisinart nonstick pans is that they eliminate the need of changing pans when putting them in the oven. It can go into a high-heated oven of 500 degrees Fahrenheit directly from the stovetop.
The curved walls are just of the right slant and height to provide enough cooking space and to easily slide out food without dripping oil or making a mess.
The only downside is that they are not induction-compatible pans. Otherwise, the sturdy and slightly heavier pans are resilient enough to last for years without needing a replacement.
PROS
Heats quickly and evenly
Won't move around on stove
Extremely durable & long-lasting
Very easy to clean
CONS
Not suitable for induction cooktop
2. Carote – Best Large Non Stick Pan
In the world of non-stick pots and pans, Carote has been the understated brand that comes up with extraordinary non-stick pans. The Carote pans' specialty is its 5-layered stone-derived Granite coating with a focus on wood grain handles.
The pan belongs to the essential woody skillet range. The special granite coating also ensures it doesn't get scratched, deform, or discolor due to acidic food.
Unlike Cuisinart pans that are 4 pounds heavy, Carote pans weigh only 2.77 pounds in weight.
Due to its lightweight and high-walled design, the pan is ideal for tossing food with hands.
The tall sides make plastic spatula use a bit tricky, especially when flipping crepes or pancakes.
However, the depth of the pan keeps the moisture locked in the food and less splattering in contrast with other pans. Besides that, this 12 inch large nonstick frying pan can hold more food due to its depth and cooking surface.
It has the edge over Cuisinart due to its magnetic base, which makes it in tune with induction stovetops. The pan's Bakelite handle also remains cool during cooking.
But due to its wooden Bakelite handle, the pan can only withstand 350 degrees Fahrenheit, so you won't be able to cook on high heat in the oven.
PROS
Suitable for all stove types
Solid handle with decent grip
Balanced base prevent tipping
A budget friendly option
CONS
Not suitable for high heat
Not an oven safe
From the first look, it just looks like an ordinary non-stick frying pan that just happens to do the job well. But when you zoom into the designing and features, you will find a remarkable minute and thoughtful detailing.
For instance, even after being made of hard anodized coating and offering a 12-inch size, it is lightweight. (2.49 pounds).
The coating makes it tough and rugged than conventional Teflon pans. Famed for good gripping, the handle has a peculiar finger rest at the bottom, which acts as an indicator to stop the fingers from touching the hot part of the handle.
The silicone-made handle grip also remains cool. However, due to its make, it can withstand only 390°F in the oven.
One of the features we liked the most, is its super-flat cooking area, unlike many popular brands, the oil doesn't pool around the lower sides of the pan.
Speaking of sides, the pan's wall has a perfect slope, providing ample cooking area. Not just this, the edges are tall enough for tossing and stirring the food easier without spilling.
The edges are rolled slightly to make pouring the liquid or food easier without spilling.
The non-stick surface is also scratch-resistant, and even delicate food flips and slides out of the pan without sticking.
PROS
Free from toxic materials
Pan and lid handle stay cool
Excellent non-stick coating
Flipping of food is super easy
CONS
Takes a while to heat up
Not compatible for induction stove
Ask home kitchen chefs which nonstick pan they own, and you will get to hear about a multitude of brands, ask more consumers the same question, and you will notice how many times T-Fal comes up.
Made of hard-anodized titanium with integrated Aluminum, T-Fal pans are scratch and corrosion-resistant. The pan's construction strengthens the surface, so no chipping or peeling off occurs during the course of its life.
The pan's depth, long sides, and large cooking surface give plenty of space to cook heaps of veggies or meat for the whole family.
The pan has a thermal spot on the center of its surface that glows solid red, indicating when it's fully preheated and ready to cook.
The pan is sturdier and more on the heavy side, but the balance of the pan's handle is perfect, corresponding to its weight. The silicone handles also remain cool during cooking and have a hole at the end to hang it vertically.
We found T-Fal's nonstick surface to be super slippery and glidey. Consumer reports also show nothing sticks on the surface of the pan. Even if you skimp on the oil, the food loosens up the side easily.
T-Fal pans are oven safe up to 400 degrees Fahrenheit, but the lids can't be put into the oven for temperatures exceeding 350 degrees.
Although T-Fal pans are marketed as dishwasher-safe and can bear the hot water and pressure stream of water, but after our personal experience we don't recommend you to put its ability to test.
PROS
Highly durable and sturdy
Scratch resistant surface
Compatible with induction stove
Oven safe up to 400F without lid
CONS
Not a dishwasher safe
Flipping is difficult due to its weight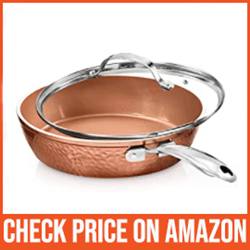 Gotham steel, manufactured in China and sold in the U.S. by Emson, is popular amongst the sea of non-stick brands due to its coating technology.
The pans have an Aluminum core at their center and have the coating of copper-colored ceramics. The hammered collection we are reviewing has one of the most eye-catching exterior hammered finishes.
Although the pans have only a coating of ceramic, it emulates the qualities of 100% ceramic non stick frying pans without having to pay the hefty amount.
The pans have a magnetic encapsulated base that makes them induction burner compatible.
What we love about it is that the pans can withstand the high heat of the oven (500°F). So, you won't have to change the pan to finish off cooking in the oven.
A good choice for someone looking for the best non-stick pan for high heat.
One of the reasons it can bear high heat is its stainless steel handles, but we found that the handles get hot during an extended cooking period.
The non-stick ability of the pan is also praiseworthy, requiring no to less amount of oil. The hammered collection's durability, scratch resistance, and even heating of the surface are better than their clad stainless.
However, we don't recommend you to put it under the brutal test of beaters or harsh detergents of the dishwasher to lengthen its life.
PROS
Suitable for high heat cooking
Safe for metal utensils
Free from harmful material
Highly durable and scratch resistant
CONS
Dishwasher cleaning will reduce its life
Lid handle gets very hot
Another T-Fal pan on our list is a good bargain for a 12.5 inches pan. The difference in T-Fal's ultimate and professional non-stick pan is that these don't have an outer hard-anodized exterior, but both have the same Titanium interior.
You can also see T-Fal's signature Thermo spot that gradually shifts color, signaling that the pan has reached its pre-heat temperature.
Another difference from the above-reviewed pan is that the Professional non-stick has a bonded steel plate at the bottom, which is responsible for induction stovetop cooking and for even heating of the pan.
It gives the pan a thick-gauged bottom and strengthens it to be warp-resistant.
The pan's handle is partly covered with Silicone and has a comfortable grip. Pan is bolted with strong rivets that are also coated.
However, if these rivets are neglected in the cleaning process, food debris gathers around them, making them harder to clean.
Even after having the silicone-based handle, surprisingly, the pan is oven-proof up to 400°F. The pan is amazingly light-weighted (2.3 pounds) and with a perfect height and flared sides for tossing the food without spilling them on the stove.
Just like any T-Fal pan, the non-stick capability is also admirable. Fish fillets, eggs, or any cut of meat easily release the non-stick surface.
But one noticeable thing in the pan is, its not-so-flat bottom, and the oil or liquid tends to pool around the edges of the non-stick pan.
PROS
Non-stick properties are incredible
Heat indicator turns red upon proper pre-heating
Comfort and
Oven and dishwasher safe
CONS
Slight pooling of oil around edges
Not good for high heat
All-Clad non-stick pan is available in a set of two – 10 & 12 inches pan that completes your family needs of a few eggs in breakfast to the whole dinner in a large non-stick pan.
These pans have a hard anodized coating with an Aluminum core that ensures that the pan is heated evenly.
This thick gauged pan has a welded stainless steel at the base that makes it compatible with your induction burners too. The pans are sturdy, firm, warp, and dent-resistant that reassures their resilience and long-lastness.
The most talked-about attribute of All-Clad pans is its handles. Personally, we prefer stainless steel handles as they can endure high-heated oven temperatures.
Although All-Clad HA-1 series pans handles are made of stainless steel, they are a bit uncomfortable to grip due to their awkward design.
However, a 12-inches skillet has an extra handle on the other side of the pan that helps in lifting the pan filled with food. It also helps in balancing the pan.
Thanks to stainless steel and hard-anodized coating, the pan is oven-safe up to 500 degrees Fahrenheit.
Talking about its non-stick quality, nothing clings to its non-stick surface whether you are cooking the most fragile seafood, frittatas, or crepes.
These pans are not a dime a dozen but worth every penny you invest in them.
PROS
Toxin-free nonstick coating
Suitable for all cooktops
Dishwasher and oven safe
Highly durable and long lasting
CONS
Handle isn't comfortable to grip
Susceptible to scratches if not proper taken care of
They say those who know the art of cooking surely understand their cookware in and out.
Rachael Ray, cook & author, has indeed used a thoughtful approach in her range of non-stick cookware. This brand has a range of both anodized and enamel exterior non-stick pans.
We have selected an enamel-coated non-stick pan that has a beautiful array of colors to choose from. The outer vibrant-colored coating has a silky finish, and the interior is treated with a long-lasting non-stick layer.
Besides adding the pop of color in the kitchen, the pan's specialty is its depth. These deep pans can hold a massive amount of food so you can cook for the whole family.
The rubberized handles provide a comfortable grip, and the hold at the end of the handle gives you the chance to hang the flashy-looking pan.
Rachael Ray lightweight frying pan, firmly secured grip with strong rivets and the pan's flared sides, make it easier to toss and flip the food with the flick of the wrist.
The pan's limitation of oven-safe temperature is up to 350 degrees Fahrenheit. Another limitation of the pan is that it is not induction compatible. However, it is the best nonstick pan for gas stove.
The pan's non-stick quality is quite applaudable too. But abrasive cleaning, use of stainless steel spatula can scratch the non-stick coating.
Use it with care, and the pan is going to last longer than you expect.
PROS
Lightweight, durable & sturdy pan
Excellent non-stick coating
Handle is comfortable to grip
Has multiple color options
CONS
Not dishwasher safe
Harsh detergents may fade the color
Ninja non-stick pans are stronger than stainless steel, thanks to their hard-anodized exterior.
These are sturdily built with 30% more Aluminum, a thick-gauge base of 4.5 mm that is warp-resistant and doesn't dent easily even if you accidentally drop it.
These pans look boringly plain, compared to Rachael Ray's non-stick range, but the non-stick capability is top-notch.
The heat transfer, heat-retaining capacity, and even heating ability of the pan are exemplary due to the thick bottom. Even heating ensures everything gets cooked evenly.
Unlike other silicone or rubberized handles, these have a round stainless steel handle that is extremely comfortable to hold. This is something all-clad manufacturers should take a note of.
The stainless steel handle remains cool to a certain limit. Extended cooking will require the use of kitchen mittens.
One thing we noticed is that the rivets are not coated. So oil, grease, and food can build up or stick to it.
The bonus point of stainless steel handles is that it has given it immunity to go into the high-heated oven of up to 500 degrees Fahrenheit.
Although marketed as stainless steel spatulas and beaters safe, you should learn from experience and avoid using stainless steel or stacking it over one another.
PROS
Heavy duty and sturdy frying pan
Works well under high heat
Quick and even distribution of heat
Oven safe up to 500°F
CONS
Thick and heavy to lift
Cleaning requires extra care
The last on our list is EOE pans constructed with a hard-anodized finish. The pan has Aluminum at its core, and the bottom is bonded with a magnetic stainless steel layer for increased heat conductivity and induction burners' compatibility.
The make and material of the pan allow you to enjoy the benefits of a non-stick without Teflon. The pan is neither too light nor too heavy, feels sturdy, and is warp-resistant.
Its stainless steel handles are firmly secured with rivets that are surely not going to loosen over time.
Surprisingly. EOE pans slippery and non-porous coating performs well, offering zero resistance even with only a dash of oil or butter.
The pan's cooking surface and depth help in a less-splattering experience during cooking. Not just that, the depth is even enough to cook a large batch of food at once.
Oven-safe up to 500 degrees Fahrenheit, so you can finish your cooking in the oven without going through the hassle of changing pans.
The downside is the pan has a convex cooking surface and is not flat. The oil gathers around the edges of the pan instead of evenly distributed at the surface.
We liked that these affordable pans somehow managed to outshine even the high-end non-stick pans solely due to their build and features.
PROS
Free from PFAS, PFOA, APEO
Sits well & won't slide around
Heats quickly and evenly
Compatible with gas, electric, induction cooktops
CONS
Slight pooling of oil around edges
Not good for high heat
Buying Guide of 12-Inch Non-Stick Pan
Material and Coating
Coating and the material make are determining factors of the non-stick pans life and health concerns. You can find two types of coating – Ceramic based or PTFE (that are now PFAS, PFOA free non-stick pan, and completely safe).
Choose ceramic or hard-anodized coasting if you are still doubtful of PTFE.
Induction Burner Compatibility
The non-stick pans that have welded stainless steel plates at the bottom are induction stovetops compatible. These encapsulated bottom or bonded stainless steel plates also make the pan sturdy and warp-resistant.
Handles
A 12-inch pan is not a non-stick pan for frying eggs only; it is meant to cook a large amount of food. So, a firm handle bolstered with strong rivets is essential for creating balance and easy maneuvering and lifting. Also, choose stainless steel handles if you frequently cook recipes in a hot oven.
Silicone or Bakelite handles remain cool to grip but can't bear the high temperature of the oven without deforming.
Oven-Safe
Most of the new coming pans in the market are now oven-safe. But you need to check the maximum temperature endurance of the pan, as it will be useless to buy an oven-safe pan that can't make a recipe requiring high-oven temperature.
Weight & Cooking Surface
A 12-inch pan loaded with ingredients and food can get heavy. And if the empty pan is also heavy in the first place, it gets difficult to lift and toss the food. So, choose a pan that is sturdy yet lightweight.
The pan's cooking surface is directly related to the sloping sides of the pan. If the pan's walls are too flared, the cooking surface gets compromised, and if the sides are too steep, it is difficult to use a spatula. Choose the pan that is neither too flared nor too steep and has ample cooking area.
Frequently Asked Question – FAQs
Should I get a 10 or 12-inch pan?
It depends on your family size, usage, quantity of food, weight, and maneuverability. A 10-inch pan is, of course, lighter than 12 inches but skimps on the surface area. A 12-inch pan can accommodate 4 eggs, whereas a 10-inch pan can cook 3 eggs at a time.
In our opinion, if you have to buy only one pan, you should invest in a 12-inches pan as you can cook small amounts of food in a large pan, but can't cook heaps of food in a small pan.
Is a 12-inch pan big enough?
Although you can find up to 14.5 inches of pan in the market. They can be too wide for the stovetop. A 12-inch pan is definitely big enough and not only has a perfect diameter but also offers plenty of space to cook mountains of vegetables, pan pizza, crepes. It can sauté large amounts of food enough for a large family.
10 inch or 12-inch pan, which is better?
For cooking quick meals or breakfast, a 10-inch pan is enough. They are less pricey and have 29% less weight than a 12-inches pan.
A 12-inches offer a large cooking surface that cooks more food at a time, but these pans take longer preheating time and cost more.
We recommend you to buy a 12-inches pan if you cook a good quantity of food.
What are the best 12 inch pans to buy?
Cuisinart – Pan with Glass Lid
Carote – Large Non Stick Pan
Oxo Good Grip – For Frying Eggs
T-Fal NonStick Pan – For Induction Stove
Gotham Hammered Copper – For High Heat
T-Fal Professional (E93808) – Dishwasher Safe
All-Clad Hard Anodized – Best Pan Consumer Reports
Rachael Ray Brights – For Gas Stove
Ninja Foodi C30030 – Oven Safe
EOE Hard Anodized – Teflon-Free Pan
Wrapping Up!
Unarguably, a 12 inch pan is considered a staple in the kitchen as you can't own every available size in the market. These 12-inches pans provide sufficient cooking space to cook a voluminous amount of food for the whole family, yet they are small enough to heat evenly. But choosing the right non-stick frying pan, having a durable and safe coating, with balanced and strong handles can be arduous. We have spent hours on research to test the performance of some of the best 12 inch non-stick frying pan that have all the right qualities to last a long time without needing replacement sooner.