Kitchen Under 100 is supported by our readers. When you purchase an item through links on our site, we may earn an affiliate commission.
Does finding a inexpensive microwave that performs well feels like finding a needle in haystack? Here are some of the best microwaves under $100.
Microwaves are a great way to cut down time on cooking. But when you are on a budget constraint, or a student, or have a small family, you don't want a high-powered, luxurious microwave for which you have to pay through the nose. High-end Microwaves offer bells and whistles that often go unused.
After all, who wants all the presets and sensors when sometimes all we need is a simple appliance that makes life simple and easy. Under $100, you can still find a microwave where you don't have to sacrifice performance.
At such a low cost, you can find a countertop appliance of 700-1000 watts that will save up a lot of kitchen space. Such microwaves can perform every basic cooking task such as reheating, making frozen food and cooking simple meals from scratch.
However, choosing from various options of microwave ovens can be dizzying. So, after extensive research and testing, here are our top recommendations for the best microwaves for the money.
10 Best Microwaves Under $100 – Budget Friendly Picks 2022
Finding a budget friendly microwave oven with all the necessary features is not easy. But it is not something to worry about. Kitchen Under 100 brings you the collection of the best microwave ovens under 100 dollars that will help you to choose a right microwave oven. Before jumping on to the reviews we present you a quick comparison table.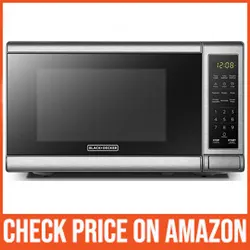 If you have a space limitation and want to adhere to a small microwave with good power, Black & Decker 700 watts should be an ideal choice for you.
But don't get fooled thinking it's small and won't have ample interior space. Having 0.7 ft. of interior capacity, we found that it can accommodate large dinner plates and bowls easily.
Another bonus point is that you won't find such a powerful microwave in this price range. So, take full advantage of microwaving at a budgeted price.
Heating functions are reliable and fast, and it also defrosts evenly without burning edges.
Like any other microwave, it also has preset buttons to cook your food for the same amount of time, leaving you worry-free to guess the cooking time – A heavenly option for novice cooks.
The push button to open the microwave door is slightly stiff, so the microwave moves a little, trying to open it. To overcome that, you can use non-skid pads, so the unit doesn't move around on the counter.
Other than that, the unit's digital display is intuitive with a kitchen timer, express cooking button, and 10 power settings.
One of the concerns of buying a microwave is the noise level. Black & Decker is a quiet machine, but some users have complained of grunting noise after being used continuously.
PROS
Doesn't take much space
Equipped with child lock system
10 adjustable power levels
Easy to use controls
CONS
Door clips are made of plastic
Catches finger prints which requires frequent cleaning
2. Amazon Basics – Best Smart Microwave with Alexa
Alexa Integration in microwaves is introduced by Amazon and is now being integrated into other brands and models.
The reason?
Tremendous benefits of Alexa to any disabled or low-sighted, older people, for younger kids who need to use the microwave without any adult supervision and the mothers can't risk them meddling with digital controls.
Or simply you don't want to touch the buttons due to oily or stained hands.
Another best point of Amazon Basics Microwaves is the price factor being reasonable as you can't find any other device with Alexa compatibility under 100 dollar.
It's not a 1000 watts microwave like the other two we've reviewed. Amazon Alexa has a 700 watts with 0.7 cubic ft. internal capacity.
So, it has a smaller footprint – a prerequisite for cramped spaces like offices, mini kitchens, dorm rooms, or small families.
The digital display is straightforward with a kitchen timer, digital clock display, and power levels. Apart from the popcorn preset, you won't find other pre-programmed buttons which are standard in other microwaves.
Keeping in mind the low wattage of the microwave, you can't assume it to cook with the blazing speed of a superhero. But that should be expected in all low-powered microwaves.
If you are flexible with adding in a few more minutes to reheat and cook, then have a look at Amazon Basic's features as it could be your next microwave.
PROS
Compact and highly affordable
Alexa enabled microwave
Push button timer for instant re-heating
Easy to clean and maintain
CONS
Echo device is not included
Not suitable for large plates
Next up on our list is a microwave that can save you from splurging in costly microwaves with tons of features and sensors that you are not going to use.
Comfee, the compact microwave, performs at 700 watts that can be utilized by 11 choosing variable power levels.
It's a power-efficient microwave that reduces stand by power up 50% by turning off the display when the ECO-mode is activated and saves every bit of a penny on electricity costs.
It is one of those models that have a mute option to quiet down the shrill "beep beep" that we intermittently hear till we open the microwave and take the food out and when you press the buttons.
With a 10 inches turntable, it can't fit large dinner plates but can suffice for basic cooking in small quantities.
Other worth mentioning features include the preset buttons for cooking, Express cook, child lock, memory, clock function, kitchen timer etc. All these features are standard in any microwave.
Apart from being a bit slow in cooking, it stood up well in all other areas.
PROS
Beep sound can be muted
Eco mode for power saving
11 adjustable power levels
Bright and beautiful digital display
CONS
Buttons are pretty hard to press
A bit over-priced
Small yet powerful – this is what we should say about this microwave.
It's a praisable option in a low-budget and under-wattage microwave that gets the reheating and basic microwaving job done with perfection.
With preset options, you need not fuss over remembering the time and power each time for everyday meals.
It has an internal capacity of 0.9 cubic foot as we find in almost every best 900 watt microwave. A decent power that let you heat the food quickly and evenly.
Given the interior capacity of the microwave, it is best- suited for small families or tiny kitchens with the limited need for reheating and basic microwaving functions.
The microwave performs decently well in all the functions, whether it is reheating yesterday's leftovers, defrosting, or cooking frozen meals.
The only missing thing that could've made it to the top-tier microwaves is the 30 seconds button. Setting aside the omitted 30 seconds function, it shines in almost all aspects.
It has proved itself to be easy to maintain with a removable turntable.
PROS
Has solid stainless steel body
Heat foods quickly and evenly
Six pre-programmed recipes
Occupy less space on kitchen counter
CONS
Slides around a bit when the door is opened or closed
Admit it, we are all driven by the love of timeless and retro-looking items. In a world full of people following tech trends, retro items are still made to stand up to wear and tear.
Galanz retro microwave is an eye-pleasing addition to the kitchen countertop. Without occupying too much space, the black microwave can fit on any counter or cabinet.
It doesn't have the usual tech and nerdy numbered buttons, rather it flaunts a large knob for setting in the desired cooking time.
After admiring its praise-worthy looks, let's talk about its functionality.
With 700 watts and 0.7 cubic ft., it features all the fundamental options such as child lock, defrosts, adjustable power levels that go up to 700 watts.
You will have to spare a few more seconds or minutes, but that is acceptable given its overall performance and classy looks. The turntable rotates flawlessly to give you evenly cooked food.
The oval window shines with LED lighting that lets you peek into the cooking process.
Instead of a push-open button, the microwave has an old and tested pull open door that is highly desirable among many consumers for its ease in handling.
Although it comes under-budgeted microwaves, it's the type that you would love to spend more, even if it was being set at a higher price tag.
PROS
Beautiful retro style design
Save space on kitchen counter
User-friendly control system
Child lock ensure kids safety
CONS
Door hooks are made of plastic and prone to breaking
Slightest touch turns on the microwave
Another Farberware in our list, and for all the right reasons, as Farberware is considered one of the leading microwave brands garnering positive reviews.
This model, like the previous one, comes in 0.7, 0.9 & 1.1 cubic ft. We are reviewing the 0.9 cubic ft variant here.
As for performance, with a good heating intensity, it quickly heats up with 9000 watts, not a slow microwave like its counterpart 700 watts microwave that we discussed below.
So, performance-wise there is only a slight negligible difference in reheating and defrosting.
In comparison, the difference is only the internal capacity and dimensions. Its internal dimensions are 13.66 x 12.36 x 8.7 inches with a 10.6 inches turntable.
It's a microwave that is packed with power having a smaller footprint.
Farberware classic is a sleek black microwave with stainless steel front and curved edges that looks exceptional on the countertop.
Other features are almost similar to the 1000 watts. With 10 variable power levels to give you the potential to control the cooking process. 6 one-touch pre-programmed settings for quick-cooking take the guesswork out of microwaving such frequent meals.
Apart from that, express cooking, 30 seconds time-addition option, kitchen timer, digital display, and memory functions make the unit a standard and a convenient addition in the kitchen.
The only downside is that it lacks user-friendliness as the touchpad doesn't respond well to pressing the buttons and needs to be pressed firmly to get the microwave to follow the command.
PROS
Extremely easy to operate
Re-heat and defrost quickly
Easily accommodate large 10.5 inch plate
Beep sound is not irritating
CONS
A bit loud when operational
Dark glass paper offers less visibility while cooking
The Commercial Chef microwave in white is just an adorable addition in the kitchen that can turn heads with its classic elegance.
It has an uncomplicated design combined with retro-style rotary controls.
It's the only one on our list with 600 watts of power and 0.6 cubic ft internal capacity.
With such a small footprint, you can practically hide it in any corner of the kitchen. But its sheer simplicity and beauty scream to be shown off.
Being one of the best microwave ovens for a home that is small and the residents don't want to cook multi-step complex recipes, it fulfills every box of needs with just a little extra time.
Amazingly enough, 600 watts microwaves are not considered worthy for popping popcorn, but many reviewers have successfully made their movie night more cheerful by popping popcorn in the tiny microwave.
The mechanical dials are self-explanatory for cook-time setting up to 30 minutes and to set 6 different power levels ranging from low to high.
The absence of techy buttons and the digital display has made it a preferred choice for older people who don't mind spending a few more minutes while their food is being reheated or cooked.
PROS
Beautiful design and small footprint
Six adjustable cooking levels
Not irritating beep sound
Best microwave for seniors
CONS
Poor visibility while cooking
No digital display
Farberware, sleek black model brings a touch of class and is neither too big nor too small – just the appropriate size best suitable for countertop.
Combining style and functionality, it is one of the steadfast and cost-effective options in our list with impeccable features and a fairly large internal space.
With an internal capacity of 0.7 cubic ft., it can house larger size plates without us forcibly trying to adjust plates by tilting.
The difference from the previous one in our list is the power of 200 watts. The above-mentioned version has 900 watts of power, whereas this model is powered to give a 700 watts output.
The digital panel is intuitive with a digital timer and clock to keep track of the cooking time, but we found that the buttons soon started peeling off.
Fortunately, peeling off doesn't affect the functionality of the controls.
To avoid burning, you can control the power with ten power levels.
It also features pre-programmed buttons to automate basic cooking along with express cooking options. What we like about it is the memory button to preserve your preferred cooking setting for subsequent usage.
You will hear the soft musical humming of the microwave when it's in action. Although there is internal lighting to let you see the cooking progress, the dark interior absorbs the light, making it feel dim.
It's a sturdy microwave featuring a pull handle that doesn't jerk or move when we open the microwave. The turntable spins at a consistent speed.
All in all, it offers the best bang for your bucks with functionality and looks.
PROS
Compact design occupy less space
Six one touch cooking programs
Child safety lock
Not everyone wants a bigger microwave. Small kitchens and insufficient spaces require a mini microwave oven. This model can easily be placed on even a compact shelf, thanks to its small footprint.
The boxy-looking microwave isn't the best-looking on our list. But we surely want our microwaves to perform better than they look.
Combining a 700 watts power with the competency of 10 power levels gives you the control to set the power and cooking instructions as per your directives.
The Danby microwave doesn't have a swift handle; Rather, it possesses a push button to open the microwave door.
As for the cooking consistency, Danby gives 6 auto-cook handy options to cook meals with a single push of the button. Also, express cooking, auto defrost, and extended cooking time options demonstrate that it is no less than a high-powered microwave.
With almost zero complaints on its competency to reheat and defrost evenly, makes it more desirable to other consumers.
The 10 inches turntable plate requires a slight adjustment time and again due to the microwave's engineered design that isn't recessed to fit the turntable nicely.
But the microwave comes under the "silent machine" category, which is a bonus point for those who get irritated by the motor's grinding noise.
PROS
Glass turntable heats food evenly
Auto defrosting by time and weight
One touch pop-corn maker
Very quiet microwave
CONS
Not suitable for large dinner plates
Pop-corn bag stops rotation of turntable when pop-corn start popping
10. Hamilton Beach – Best Small 1000 Watt Inexpensive Oven
The last on our list is a stainless steel microwave oven from Hamilton Beach – A company recognized for its motor-driven kitchen appliances. And its microwaves have built a tremendous reputation.
The microwave we are reviewing falls in the category of mid-size microwave ovens. It's a powerhouse with 1000 watts of power and 1.1 cubic ft. interior cavity space.
Even after having 1.1 cubic ft., it fits easily in the kitchen without eating the entire space on the countertop.
With the exterior of stainless steel and black casing, it looks upscale and designed to impress others. Instead of a push-button door, it also has a pull-off handle for easily accessible handling.
Not just looks, Hamilton Beach also outshone its competitors with its remarkable features and performance. It reheated and defrosted quickly.
Our selected model has 6 preset auto cook buttons with adjustable power levels, express cooking.
The control panel can be locked with a child lock to prevent kids from accidentally messing with the settings when you are cooking your favorite meal.
LED display, kitchen timer, as a matter of fact; it has every ingredient essential for high-end microwave ovens.
Even after being a high-powered microwave whose performance equates to top-tier microwaves, it is budget-efficient and easy on the pockets.
PROS
Solid and sturdy stainless steel built
User-friendly touch control panel
Powerful 1000 watts with adjustable power levels
Child lock to restrict kids access
CONS
Its machinery is a bit noisy
The black sheet on glass door restrict visibility while cooking
Buying Guide For Microwave
Following are some need-to-know tidbits for choosing the right microwave oven for the family.
Type of Microwaves
The first thing to decide before buying a microwave is choosing its type. Microwave ovens are usually divided into three types based on their function.
Solo microwaves are used for basic reheating and defrosting and the least expensive among them.
Grill microwaves can grill the food like an outdoor grill does.
A convection microwave is the most expensive as it can grill, reheat, defrost and bake too.
People who think, using microwave oven has some serious health concerns, they can clear their confusion by going through this information – Do Microwave Ovens Cause Cancer?
Location
Location involves deciding where you want to install the microwave. It can be placed on the countertop. Over-the-range microwaves have an exhaust system and are installed above your cooking range.
Built-in microwaves have cabinetry around them. Microwave drawers also fall in the same category. Choose the microwave based on the space and installation.
Power
Microwave's power is measured in watts. The general rule of thumb is, the higher the wattage, the faster it cooks the food. A 1000 watts is considered a baseline for fast cooking.
However, some 700 watts also perform well in terms of cooking. Higher wattage microwaves are expensive so keeping your budget in mind, choose the highest wattage microwave for swift performance.
Functions and Features
Apart from size, budget, location, and power, there are a few desirable features to look out for when you are on the hunt to buy the microwave.
Preprogrammed buttons, power levels, child lock, sensors, inverter technology, kitchen timer, express cooking, automatic turn off, and mute function are some features that will make microwaving a hassle-free affair.
Noise Levels
If you are immune to the grunting motor sound of the appliances, then this shouldn't bother you. But if you like your quietness while cooking, you should choose the microwave that doesn't hum loudly while the food is spinning on the turntable.
Reliability
A microwave is considered reliable if it works seamlessly over a period of time by giving a uniform output. A reliable microwave wouldn't overheat or burn the food, nor would it smoke and spark.
It functions smoothly, with all the features of the microwave working uninterrupted and consistently.
Frequently Asked Questions – FAQs
What are the best budget friendly microwave ovens under 100 dollars?
BLACK+DECKER – Best Stainless Steel Microwave
Amazon Basics – Best Smart Microwave with Alexa
COMFEE' EM720CPL-PM – Best Countertop Oven
Commercial Chef CHM770B – Best 900 Watt
Galanz GLCMKA07BKR Retro – Best Small Size
Farberware Classic FMO07AHTBKJ – Best Value for Money
Commercial Chef 9.5inch – Best for Dorm Rooms
Farberware Classic FMO07ABTBKA – Best 700 Watt
Danby DBMW0721BBS – Best for Small Kitchen
Hamilton Beach – Best Small 1000 Watt Inexpensive Oven
Are cheap microwaves safe?
First thing first, each microwave has to pass safety standards enforced by FDA, irrespective of the price window it falls in. And the safety guidelines to use the microwave to ensure the reduction of microwave related accidents are to be followed by everyone whether a person owns a 2000$ microwave or a 60$ microwave.
All microwaves are safe from radiation hazards. However, watch out for the cooking time as most happen due to popcorn or potatoes.
How long should a microwave last?
A microwave with proper handling can last a decade or more. The average lifespan of the microwave is about 7 years. But you may find yourself in a tight spot and need to replace it sooner than that. Mishandling like not upkeep the microwave, slamming the doors handle, microwaving in the unsafe utensils, keeping it ON when there is no food inside can shorten the microwave's life expectancy.
What are the signs that a microwave is going bad?
Here are the signs that the microwave is going bad.
Loud noise erupting from the microwave.
It takes forever to do the simplest tasks.
A strange burning smell, smoke, or electric spark in the microwave.
The turntable stops working.
You push, press, and push more buttons to get it up in working condition.
It has surpassed its life expectancy.
What foods should you not microwave?
Eggs:  These can explode in the microwave.
Processed Meat:  They contain preservatives and chemicals which can produce cholesterol oxide and can cause cardiovascular disease.
Chilies: The capsaicin in the chilies can vaporize in the air and cause your eyes and throat to burn.
Breast Milk:  For your child's safety due to uneven heating.
Pasta Sauce: It splatters in the microwave due to its thickness.
Grapes: These can ignite and flame.
Plain Water: You can microwave, but it can get "over boiled" and erupt, causing scalding and burning.
What should you not microwave?
You should not microwave anything that is not labeled as "microwave-safe." Some of the things include:
Steel utensils
Unsafe plastics
Styrofoam
Paper bag
Takeaway containers
Containers without lids
Beware of the metal-rimmed utensils too
Plastic containers that we use to store food
Aluminum foil
Shirt or cloth piece to dry
Wrapping Up!
While you may be under the wrong impression that you can only purchase a small microwave oven that scores poorly in performance when you have only a $100 budget. Sure enough, if you can wiggle out your budget a bit, you can buy a feature-packed microwave. But that doesn't mean that you are not going to have one of the best microwaves under 100.
You can easily buy an appliance with low power 600 watts to a mid-sized microwave with 1000 watts with renowned brands whose appliances speak for their quality. For your help, we have unbiasedly reviewed a few high-ranked microwaves that are under your budget. We hope it helps you with your selection.