Kitchen Under 100 is supported by our readers. When you purchase an item through links on our site, we may earn an affiliate commission.
While checking different non-stick pans, I came across Ninja Neverstick and instantly got attracted. I have been using a Ninja Foodie Air fryer with pressure cooking capabilities, and it works wonders in the kitchen. So, I know it's a well-known reliable brand that has branched out to non-stick production.
To test the non-stick Ninja frying pan, I purchased a 12-inch non stick pan for a larger cooking surface. You can also buy the whole set of Ninja Never Stick to get all types and sizes of pots and pans for your kitchen. You may also like to check our recommendations for the best ceramic non stick pans.
Ninja NeverStick Non-Stick Pan to the Test
My testing of Ninja Never-stick was based on:
Even Cooking
Ease of Cleaning
Heating time
Food release from the surface
Comparison with Blue Diamond non-stick pan
So, let's look at how well it fared against all our tests, but before that, let me list down all its features, so we know what to expect during testing.
Ninja Never Stick Features
Stainless Steel Handle
Oven-safe 500 F
Heavy Gauge 4.5 mm Aluminum base
Induction Compatible
Dishwasher safe
Hard-Anodized Exterior
Metal Utensil Safe
If you are looking for a second option you can check Misen non stick pan.
Ninja Foodi Neverstick Non-Stick Pan Review 2022
Construction – Solid & Substantial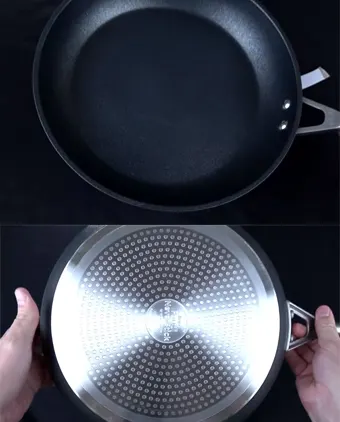 Material and construction are the 70% determining factor of how well the non-stick will perform. Rest is dependent on the design details and how carefully the non-stick pan has been utilized by the user.
Ninja non-stick pans have gone one step ahead to ensure that the non-stick pans last longer and have used a manufacturing technique where the maximum of 30,000 F is being used whereas other pans use 900 F.
From the feel, the pan feels hefty like any mini cast iron pan would feel. The aluminum used in the Ninja Never Stick pan is hard anodized, which is stronger than stainless steel.
One of the distinctive features of Ninja non-stick is its 4.2 mm thick aluminum base which extends to a comparatively thinner side. The thick base makes it sturdy and helps in heat retention, even cooking, and less burning.
The base has a plate attached to it that makes it compatible with induction burners. The pan's underside is flat and remains flush against the glass surface of the electric and induction cooktops, but the interior surface has a bulge in the middle.
Design – Simple & Effective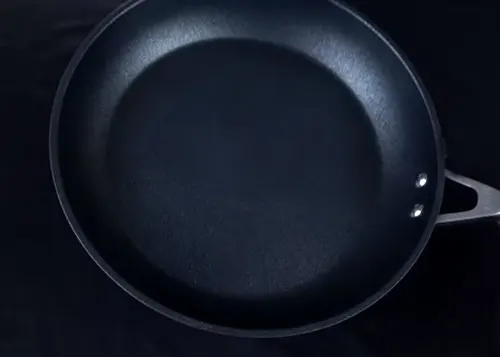 Ninja Never Stick pan's design is simple yet effective. The pan is deep with flared sides. The depth is enough to hold more ingredients in the pan.
The pan's exterior is shot blasted and has a grainy rough texture, whereas the interior is smoother than the exterior and has a sheen to it.
The stainless steel handle is solid, round, long, and feels comfortable while holding. The handles have a hole on one end to hang it up on the rack. The fixed end of the handle has Ninja's name engraved and has a forked design to dissipate heat, so the handle doesn't get hot.
In our testing, the handle did get hot after being on the stove and in the oven for a long time. The handle is affixed with dual rivets in the interior. The rivets are not coated with non-stick coating, so the food gets stuck around them, making it hard to clean.
Heat Distribution & Retention
Due to the pan's thickness, it takes time to heat up which is mainly due to the professional-grade aluminum used in its construction. Unlike other traditional non-stick pans, the Ninja pan requires it to be preheated before cooking, or else the food would stick to the base, making you think that the non-stick doesn't work.
But once the pan's heated, it distributes the heat evenly to the edges and sides and retains heat too. But I still found it to drop the temperature if cold ingredients are added to the surface.
Ninja Never Stick Non-Stick Pan's Performance
I tested the pan with the usual egg test and tried the scrambled eggs first without any oil. To be honest, the eggs didn't glide out of the surface as I expected them to. But the eggs released the surface easily when I slid the spatula under the egg. But when I tried the eggs with a dash of oil, it just cooked perfectly.
As I mentioned above, the interior is slightly domed, so the oil pooled around the edges.
Next, I tried some pan-seared, oven-finished steak cooked on high heat. The steaks were seared perfectly with even browning crust, and I finished cooking the steaks in the oven.
I also made crepes and pancakes. I was impressed with even browning and how easily the food released the surface.
Super Easy to Clean
Cleaning a Ninja non-stick pan is easy. The food residue that is cooled on the pan's surface in regular pans causes you to scratch and scrub. However, the cold and stuck bits on the Ninja's surface clean easily with the sponge and don't require any scrubbing or extra effort. You can also wash it in the dishwasher, but don't make it habitual to ensure the long life of the non-stick pan.
Check Latest Price on Amazon
Comparison with Blue Diamond Non-Stick Pan
I compared it with my Blue Diamond non-stick pan side-by-side. Although both are non-stick pans, they are completely different in the way that Blue Diamond has a ceramic coating, whereas Ninja has a PFOA-free non-stick coating that is strengthened at 30,000 F temperature.
Apart from the non-stick coating, here's a quick glance at the main differences that I found.
| | |
| --- | --- |
| Ninja Non-Stick Pan | Blue Diamond Non-Stick Pan |
| Ninja non-stick pan is heavy. | The Blue Diamond pan is not that heavy. |
| Ninja non-stick pan is strengthened by a high-temperature manufacturing process. | Blue diamond pan has industry-grade diamond dust infused in the surface for strength. |
| Ninja non-stick pan is moderately priced. | The blue diamond pan is budget-friendly. |
| Ninja non-stick pan has a rough exterior and a smooth yet grainy interior. | The blue diamond pan's surface is pore-less and smooth. |
| Ninja non-stick pan is induction compatible. | It's not induction compatible. |
| It's an oven-safe non-stick frying pan and can withstand up to 500° F. | It's oven-safe up to 600 F. |
| Metal whisks and spoons can be used on it. | It is also a metal-safe non-stick pan. |
| Dishwasher safe | It can be washed in the dishwasher. |
Both the pans' non-stick quality is good, and the food releases the surface easily. But the ceramic non-stick is not as durable as the Ninja. These brands advertise their pans as never stick, durable, metal utensils safe, but in reality, every non-stick pan requires the same care, and you can't abuse it with daily washing it in the dishwasher or by using metal utensils in it.
Pros and Cons of Ninja Foodi Non-Stick Pan
Pros
Sturdy construction and durable coating
Even browning
Induction compatible
Oven-safe and dishwasher safe
Comfortable and easy to hold handles
Cons
Difficult to clean handle's riveted area
Takes longer to heat-up due to extra-thickness
Frequently Asked Questions – FAQs
Does Ninja non-stick pan use Teflon?
Yes, Ninja non-stick pan has a PTFE coating, commonly known as Teflon. But the coating is free of PFOA, the substance notorious for harmful effects on health. If you want a Teflon-free pan, check these best recommendations.
Is Ninja Foodi cookware worth it?
Yes, Ninja Foodi Neverstick premium cookware is worth purchasing due to its performance, ease of cleaning, even heat distribution, and build quality.
Can you use metal utensils on Ninja NeverStick cookware?
Yes, the Ninja NeverStick cookware is metal utensils safe. So, you can use metal spatulas, spoons, whisks, etc. But you can't use knives and forks on the cookware to avoid scratches.
What is a Ninja non-stick made of?
Ninja non-stick is made of hard-anodized aluminum and has a proprietary non-stick coating made of PTFE, free of PFOA.
Final Verdict – A Worthwhile Purchase
I loved the Ninja non-stick pan for its worthwhile performance, sturdy construction, and even heat distribution. It's a mid-priced non-stick pan with exceptional non-stick performance. I also love the fact that it can be used on induction ranges.