Kitchen Under 100 is supported by our readers. When you purchase an item through links on our site, we may earn an affiliate commission.
Whether you are preparing chicken or searing thick pieces of meat, you want to finish off the recipe by putting the same pan in the oven which you have used on the stovetop.
And home chefs can get understandably anxious to put non-sticks in ovens, as not every pan can endure the high heat of the oven, it will either warp/melt its handle or emit toxic fumes.
Most oven-safe non-stick pans have stainless steel handles to up their temperature endurance threshold in the oven. Backlite or rubberized handles remain cool when you hold them but melt in the oven if the temperature gets high.
Another thing that adds to non-stick pans oven-safety features is the quality of non-stick. If the non-stick has a low quality or thin single coat, it will deteriorate in the high-oven heat.
Non-Stick pan lid's oven-safe temperature should also be checked if you want to put it in the oven with the pan. You definitely don't want the lid shattering in the oven by setting a high temperature. Don't miss to check our recommendations for the best pans without Teflon.
Best Oven Safe Non Stick Pans 2022
We understand that finding the best non-stick oven-safe pan can get hard by checking temperature and features individually. That's why we have done all the research and have choose these best non stick skillets that can be used in the oven safely.
1. Cuisinart Chef's Classic – Best 12 Inch Non Stick Pan
Cuisinart Non-stick pans are the choice of people who prefer peerless perfection.
It gives the inspiration to experiment with versatile dishes that include stovetop to oven recipes. The high tolerance of Cuisinart pans up to 500°F make it possible to try such recipes.
Cuisinart non-stick pans are constructed with the concept of hard-anodized aluminum to beef up its strength more than steel or untreated aluminum.
The pan's non-stick coating is reinforced with titanium to give a non-porous surface so that the food doesn't get into pores and stick to the pan.
Cuisinart pans have a forked shaped stainless steel handle to dissipate the heat from the stove so that the handle remains cool from the holding position.
Although the handles are dual-riveted and firmly stuck to the pan, we didn't quite like how it feels in hand. The handles are straight rather than having a curve for easy handling, and we found it difficult to hold during pouring.
But that's not a deal-breaker as this 12 inch non-stick frying pan offers a lot more.
Even after having sloped sides for tossing and flipping the food, it doesn't scrimp on the cooking area, and you can cook the food for the whole family.
The pan is accompanied by a glass lid that has a stainless steel handle. However, if you want to keep the lid on in the oven, you can't go beyond 350°F as the top lid is safe only up to the mentioned temperature.
PROS
Hard anodized wear-resistant constructions makes it highly durable
Heat quickly and evenly without any cold spot
Excellent non-stick performance
Pan is oven safe up to 500°F
CONS
Not a dishwasher safe
Handle is a bit narrow and slippery
2. Ninja Foodie – Best Induction Safe Pan
Ninja Foodie, a brand that has set the standard in blenders, air fryers and pressure cookers, has now advanced towards making non-stick pans.
Just like their appliances, Ninja Foodie has excelled in using the well-balanced blend of design and material in construction of non-stick pans.
The most striking feature of Ninja non-stick is the round profile of the brushed stainless steel handle. Thanks to the stainless steel material, its oven temperature endurance has increased up to 500°F, allowing you to stick the pan directly in the oven.
The solid and comfortable-to-hold handle could be a lot better if it had some texture to help gripping it.
Oily and greasy hands make the handle slippery, and grasping the handle becomes particularly difficult.
Ninja Foodie is touted as "Never Stick" as the non-stick pan has gone through the maximum temperature of 30,000° F during the manufacturing process. It's the reason for its durability and strength.
The non-stick pan's thick 4.5 mm base retains heat for longer but takes more preheat time due to the professional-grade aluminum-cladded design.
The high-gauged base reduces hot spots and cooks and browns the food evenly. However, the walls don't have the same 4.5mm thickness as the base.
Unlike Cuisinart, the non-stick pan is compatible with the induction range too. The non-stick pan, due to its durable construction, is dishwasher safe too, but we wouldn't recommend it to prolong the non-stick coating.
PROS
Solid scratch and dent-proof construction
Safe for metal utensils
Highly affordable
Induction cooktop and oven safe up to 500°F
CONS
Due to thick base it is a bit heavy to lift
Cleaning requires some effort
3. Calphalon Signature – Best Large Frying Pan
Calphalon Signature style non-stick pan made it to our list because of its finest and robust tri-layer inner coating. The coating not only makes it more substantial and longstanding but also improves its oven temperature endurance level from 450 to 500° F.
These pans are constructed using hard anodized technology that makes them warp and rust-resistant. And pan's available sizes are 10 and 12 inches.
Calphalon's signature style pans are affixed with three rivets instead of two, as we see in its "Classic Style Pans." Three rivets improve its strength, and the pan's handle doesn't get loose over time.
Not just this, the forked design of the stainless steel handle keeps it relatively cool, and the arch of the handle gives it the more comfortable and right amount of handling acuity.
The pan's non-stick coating is slick and non-porous, requiring little to no oil, and the food easily releases the surface.
Speaking of the surface, due to the sloped walls of the pan, the cooking surface is sacrificed a bit. Keep it in mind before buying, and it's better to buy a large size pan to get more out of it and cook more food in it.
It comes with a premium price tag but is worth all the money spent as it ages well with little to no scratches and good non-stick coating.
Just the usual precaution is required, like cooking on low heat and hand washing it.
PROS
Durable and PFOA free non-stick coating
Heat quickly and cook food evenly
Coating is metal utensils and dishwasher safe
Oven safe up to 500°F
CONS
Not compatible with induction stove-top
Takes a long time to heat up
4. Blue Diamond – Best Ceramic Non-Stick Pan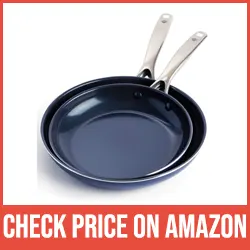 The Blue Diamond frying pan set is a ceramic coated non-stick pan with industrial-grade diamond dust infused in it.
The cladded-aluminum construction with slick and non-porous non-stick coating is one of its kind that gives the coating extra life and unparalleled performance even after rough daily usage.
It's on the very few non-stick pans with a ceramic coating that can tackle around a whopping 600°F temperature.
In contrast, Teflon coated pans' maximum temperature endurance level of the oven is limited to 500° F.
It's why we have chosen it as the oven-safe skillet because it gives you a chance to try versatile recipes without having to change the pan.
Although it's touted as broiler-safe, we at kitchenunder100 don't recommend you to use it in a broiler as the upper heating element can get way too hot than the maximum allowed temperature of the non-stick pan.
The pan is dent-resistant, so if you accidentally drop it on the floor, it won't have ugly dents, which affects the even heating of the pan.
However, the pan is definitely not scratch resistant, and the use of metal forks will leave marks on the surface.
Despite the pan's substantial base, it is amazingly lightweight, so you can also try the wrist action of tossing food and vegetables. These pans also have stainless steel handles with easy-to-grip ergonomics for comfortable handling.
The pan set is not induction compatible but heats evenly and rapidly on all other stovetops.
Cleaning the pan is a breeze, especially when the non-stick layer doesn't leave food residue that gets stuck stubbornly. No need to put it in the dishwasher even if the manufacturer has allowed it.
Getting two pans at such a budget price would definitely feel like snagging a good bargain.
PROS
PFAS, PFOA, lead-free non-stick coating
5x harder and 10x durable construction
Dishwasher and oven-safe up to 600°F
Handle is strongly riveted so it won't wobble
CONS
Not suitable for induction stove-top
5. EOE Frying Pan – Best for Making Eggs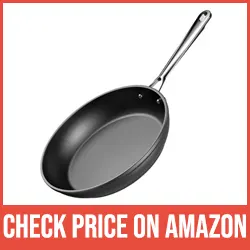 Next non-stick pan in our list that offers a great stovetop to oven possibility is the EOE pan.
Thanks to its sturdy construction, exceptionally strong non-stick quality and stainless steel handle, you can finish off your recipes in the oven by retaining all the food's tenderness and with a maximum temperature allowance of 500°F.
The pan also has anodized aluminum in the core that enhances the heat conductivity. In addition to it, the non-stick pan's bottom has a magnetic stainless steel layer that makes it warp-resistant and also induction compatible.
It's not enough, though; the stainless steel bottom has holes in it for better heat conductivity.
The inside layer is especially for saving energy and even pan heating. Due to its layered construction of the base, the pan heats rapidly and evenly without leaving hot or cold spots.
The 12 inches pan is deep enough to hold a lot of ingredients to cook the meal for your family.
With only a dash of oil,  the non-stick surface releases the food easily. The pan's handle is easy to grip but requires kitchen mittens for cooking a recipe with a long cooking time.
On the downside, the pan's interior surface is convex, so the oil or liquid runs to the lower side of the non-stick pan.
PROS
Five layer ultra-smooth non-stick coating
Transfers heat 4 times faster than other pans
Induction cooktop and dishwasher safe
Long handle keep you safe from burns
CONS
A slight dome in center of the pan
6. GreenPan Valencia – Best Pan for High Heat
Like all non-stick ceramic pans, GreenPan Valencia pro wears a stylish grey exterior with all the amenities one could expect from a premium ceramic coated pan. One such attribute is pan's high heat tolerance level in the oven.
GreenPan, being coated with ceramics, has a maximum temperature level of 600° F. It's more safe and healthy as it doesn't emit toxic fumes at high temperatures.
The non-stick coating has diamond dust infusion like Blue diamond Non-stick pans, making it more sturdy for rough usage. The non-stick interior has anodized aluminum, protecting it from warping and rusting.
The non-stick pan is available in different sizes. As compared to Blue Diamond's budget non-stick set, it is pricey.
The GreenPan healthy non-stick has a compatible induction base, and we found the pan to respond faster to heat sources by heating up quickly and evenly.
We didn't encounter food sticking issues, and the eggs and crepes slid right out of the pan to the serving dish.
The stainless steel handle is comfortable to hold and remains cool due to the V-shape design, but it will ultimately get hot if it stays on the cooktop for long cooking times.
What we liked about the pan is that the rivets that hold the handle to the pan are also coated. It makes cleaning up after cooking really easy, especially near the fastened rivets.
PROS
Diamonds infused ultra-durable nonstick coating
Won't release toxic-fumes even if accidentally overheated
Compatible with all cooktops including induction
Lightweight makes flipping of food easy
CONS
A slide pooling of oil around edges
Requires a thin coating of oil for good non-stick experience
Buying Guide For Oven-Safe Non-Stick Pan
To buy the best oven-safe non-stick pans, check every component of the pan individually to gauge its oven-safe reliability. We have mentioned a few things to keep in mind before buying an oven-safe non-stick pan.
Material
Although the best oven-safe pans are cast iron, stainless steel, or aluminum, you can also put non-stick pans in the oven. Newer non-stick pans are mostly made to be safely used in the oven. But it's better to check the maximum temperature endurance. Anything above 450° F is a great oven-safe non-stick pan.
Handle
Check the handle's material. Non-stick pans with stainless steel handles will likely have more oven temperature endurance levels than Bakelite or plastic. It is not recommended to buy a rubberized handle non-stick pan as it can melt or deform in the oven even if the allowed temperature level is high. Anyways, why take the risk when you can find better non-stick oven-safe pans.
Heat-Resistant Coating
The non-stick coating also plays a significant role in making it oven-safe. A tri-layer coating will increase its chances to tackle a high-temperature oven than a single or dual-layered coating. And ceramic non-stick coated pans are safer than Teflon coated. The reason is that the ceramic doesn't emit toxic fumes even at high temperatures and is more heat resistant.
Lid
Never forget to check the lid's maximum oven temperature, especially if you use it in the oven. Due to glass or sealing, the lids can't go into a very heated oven. If you don't find it on Amazon, check the manufacturer website to find the lid's oven-safe temperature.
Frequently Asked Questions
What are the best oven-safe nonstick pans?
Cuisinart Chef's Classic 12 Inch Non Stick Pan
Ninja Foodie Induction Safe Pan
Calphalon Signature Large Frying Pan
Blue Diamond Ceramic Non-Stick Pan
EOE Frying Pan for Making Eggs
GreenPan Valencia Pan for High Heat
Can you put a non-stick pan in the oven?
Yes, most non-stick pans are oven-safe. It's just that their oven-safe temperature varies depending on the pan's components. Always make sure to check the manufacturer's oven-safe limit before putting any non-stick pan in the oven to avoid any mishap later.
How do I know if my non-stick pan is oven-safe?
Check at the bottom of the pan to see the oven-safe symbol on it. It would be easily recognizable. If you don't find any oven-safe label, then check the manufacturer's website. And if somehow, you don't have the time or means to access the manufacturer's website, you can guess it by physically looking at it. The pans with stainless steel handles have almost 400 or more oven-safe temperature limits. Other pans may have a 350 to 400°F temperature limit, but they can also be non-oven safe, so better not risk putting them in the oven.
Is my TFAL pan oven-safe?
Yes, T-Fal pans are oven-safe with a 400° F temperature limit despite having a bakelite handle. If you are unsure of its oven safety, you can also check the manufacturer's website to confirm as different collections may have different oven-safe temperatures.
What is the oven-safe symbol on cookware?
The oven-safe symbol has an oven imprinted with a circle around it. It is easy to recognize just by looking at it.
Are all clad non-stick pans oven-safe?
Yes, All-Clad non-stick pans are oven safe due to their multi-layer coating and stainless steel handle. In fact, it is also one of the most high-enduring oven-safe non-stick pans.
Final Words!
Non-stick pans are staples in every kitchen and household. So, even if you don't put the non-stick pan in the oven, you can still buy an oven-safe non-stick pan. Who knows what recipes you may want to try tomorrow, and it may also require you to put the pan in the oven. If finding the best non-stick pan is hard for you, just go through our list and pick anyone based on your budget and non-stick pan size.