Kitchen Under 100 is supported by our readers. When you purchase an item through links on our site, we may earn an affiliate commission.
Toshiba EC042A5C-SS, a solid built stainless steel countertop microwave with convection is available on 15% discount 2022. The appliances is equipped with smart sensor, mute function and many other interesting features.
Laden with smart sensors and convection mode, the Toshiba EC042A5C-SS is a sturdily built stainless steel microwave to last years of regular use. It accommodates a whole chicken, small-sized pizza, and large dinner plates. It bakes cookies, cakes, roasts, grills, reheats, and defrosts food efficiently and is a mini-oven at your home for varied uses.
It's larger yet fits the profile of an intuitive appliance that isn't unnecessarily complicated by tonnes of features. Its noteworthy features include:
Power: 1000 watts
Internal capacity 1.5 cubic ft.
Convection mode with auto bake and auto roast
Pre-programmed sensors
One-touch cooking
Warm hold Function
Sound on/off
Memory
Power saving option
Check Toshiba EC042A5C-SS Microwave Discount
Toshiba EC042A5C-SS Microwave Review 2022 [Get 15% OFF]
Toshiba, a trusted brand, has been producing consumer electronics since 1875, and their dazzling range of appliances has a wide share in the market due to well-designed and quality productions.
To accelerate global expansion, Toshiba has shaken hands with Midea Group (a Global Chinese-based brand that produces the world's leading appliances) to procure original microwaves. Toshiba is not the only brand whose microwaves are manufactured by Midea; most of the countertop microwaves from all famous brands are manufactured by the same company.
Toshiba EC042A5C-SS that we have tested and reviewed is one of the large-sized appliances for a kitchen countertop but still smaller than built-in or above-the-range microwaves.
Design and Dimensions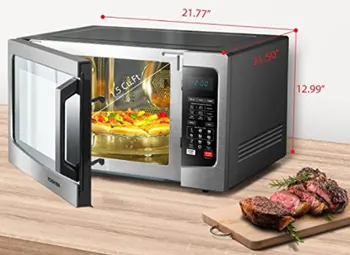 Toshiba EC042A5C-SS doesn't only have the surrounding stainless steel trim around plastic; the whole microwave, including its interior, is built with smudge-proof stainless steel. It's available in two colors – black stainless steel and natural color stainless steel. Both color variants suit the modern kitchen and complement the existing appliances.
The microwaves exterior dimensions are 21.77 width x 21.5 depth x 12.99 height, whereas the interior cavity measures 15.5w x 15.35d x 10.2h. The turntable measures 13.6 inches in diameter. Due to the spacious interior, the microwave can hold large dinner plates, baking trays, and a whole chicken for defrosting or roasting.
Since the large design is more on the heavier side, the microwave stays put and steady in its position when we open the microwave door.
Pre-programmed Sensors
Instead of separate auto-cook features for pizza, potato, dinner plate, or beverages that we see in 700 or 900 watts small countertop microwave, Toshiba's 1000 watts microwave operates on sensor auto-cooking. It means the microwave senses the food's moisture level and automatically sets the time and temperature for cooking or reheating. It's more convenient as we aren't bound to only a limited number of food items for reheating.
Convection Mode
Toshiba's microwave is not only for reheating food; it can bake, roast and grill too with convection mode and works just like the mini-version of an oven. We used it for frozen pizza and cakes; both turned out to be perfectly cooked with no burnt edges or cold spots.
The pre-programmed sensors also have auto bake and auto roast functions. The unit comes with double racks that we only use with convection mode. The rack also makes it possible to reheat two dinner plates at once.
Defrost Options
The unit has auto defrost and time defrost options. We tried both options to thaw meat, and both worked tremendously well with the meat thawed to the core without cooking it. Our favorite and convenient option was auto defrost, where we didn't have to guess the defrosting time. It automatically sets the time, and we just have to enter the weight written on the package; we were able to get the perfectly tender meat with no frozen spots.
One-Touch Start
One-touch start or express cooking allows you to simply select the time from 1-6 minutes for reheating the food, and we don't have to press multiple keys for the simple time setting. It's just an added convenience in the microwave.
Also, the microwave has the 30 second time-extend feature to increase the cooking cycle by 30 seconds, in case our food needs a few extra seconds to get that perfect crusting or browning that everyone wants.
Popcorn
Since it's a large microwave so you can pop large popcorn bags in it, we tried this feature, and the whole bag of popcorn popped without burning or leaving un-popped corn behind.
Performance
The powerful unit with 10 varied power levels consistently performed well in all aspects, be it roasting, baking, reheating, or defrosting. We only had to tweak pre-programmed timings in a few dishes that we tried. As discussed above, the popcorn functions also worked great.
"It takes time to get used to all the options, their usability to utilize the microwave's potential to the fullest."
The stainless steel interior doesn't absorb the odor from the food, and inevitable splattering inside the microwave is also easy to clean.
The outside walls of the microwave do get hot, so you will have to be careful if the kids are roaming around the kitchen.
The turntable spins smoothly throughout the cooking process without whirring noises, which lowers down overall microwave humming and buzzing noise too.
PROS
Large size microwave with 1.5 cubic ft. internal capacity
Auto-sensors for roasting and baking along
Two defrosting options
Sound on/off feature to quiet down annoying beeps after the cooking cycle
Cons
Exterior gets hot
Not for small kitchens
Comparison with Panasonic NN-SN65KW
Panasonic is one of those brands not manufactured by Midea and has the inverter technology for even cooking. Close in size to Toshiba, the 1.2 cubic ft. microwave doesn't fail to impress but lacks the convection mode.
Let's compare Toshiba 042A5C-SS and Panasonic NN-SN65KW main functions side by side so you can see the difference and choose the best microwave for your home.
| | |
| --- | --- |
| Toshiba 042A5C-SS | Panasonic NN-SN65KW |
| It's a 1000 watts model with 10 varied power levels to choose from. | It has 1200 watts with 11 power levels. |
| The Toshiba model doesn't have inverter technology. | Inverter technology results in even heating from center to edges. |
| Convection mode for baking and roasting. | No baking or roasting. |
| More versatile because of convection mode. | Limited usage due to non-availability of roasting or baking. |
| Turntable size 13.6 inches | The 13.4 inches is close to Toshiba's model because of the roomy interior. |
| Toshiba is heavier with 44.8 lbs. weight. | Panasonic NN-SN65KW is lighter at 28.7 lbs. and easier to carry. |
| The "Keep warm" option doesn't let the food go cold before serving. | Panasonic also features a "keep warm option." |