Kitchen Under 100 is supported by our readers. When you purchase an item through links on our site, we may earn an affiliate commission.
Microwave size determination is one of the first things you need to establish before you set out to find the microwave that checks all the boxes. It is also one of the easiest things to specify if you know what to keep in mind before determining the size of the microwave.
If you are unclear about "what size of microwave you need." Then let us walk you through a thinking and decision-making process that will lead you to buy the fitting size of the microwave according to your needs. You may also like to check our tested recommendations for the best stainless steel microwave ovens.
What Size Microwave Do I Need?
Two things should be kept in mind before selecting the best microwave in terms of size.
Where will you install it in the kitchen.
The size of your family and the number of people you want to serve.
Let's discuss both these aspects in detail.
Determination of Microwave Size According to Its Placement
Whenever you want to buy anything, you have a clear idea of where you would place it. The same is the case with the microwave! You know the space allowance your kitchen offers.
Microwaves are usually placed:
On the countertop (Freestanding Microwaves)
Over the range
Under the cabinets or pre-built cabinets
Wherever you have decided to place the microwave, you would need to measure the space and match the microwave's exterior dimension (depth, width, and height) with it.
Note: Microwave sizes are usually described in cubic ft., but cubic ft. shows internal dimensions of a microwave.
Countertop Microwaves Sizes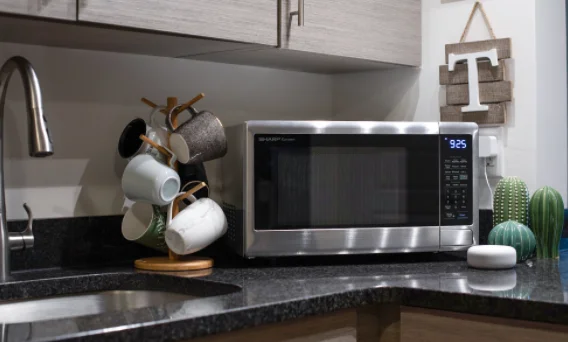 Countertop microwaves or freestanding microwaves are most commonly used and can be found in various sizes. There is no standard size of a microwave. It just depends on how much space you have on your kitchen counter.
Dimensions
Small Countertop Microwave
Medium Countertop Microwave
Large Countertop Microwave
Width
Up to 45 cm width (17.7 inches)
45-55 cm
(17.7 – 21.6 inches)
55 cm or more
(21.6 inches or more)
Height
Up to 30 cm height (11.8inches)
30-35 cm
(11.8 – 13.7 inches)
35 cm or more
(13.7 inches or more)
Depth
Up to 35 cm
(13.7 inches)
35- 50 cm
(13.7- 19.6 cm)
50 cm or more
19.6 inches or more
Watts
600-900 watts
1000-1200 watts
1200 or more
Cubic Ft.
0.6 to 0.9 cubic ft.
1 – 1.5 cubic ft.
1.5 cubic ft. or more
Do you know microwaves size is correlated with the power in watts used by microwaves? Read more on how many watts does a microwave use to gain in-depth information about it.
Over the Range Microwave
If your kitchen has the space for an over-the-range microwave, it will save your kitchen counter space. Most over-the-range microwaves have a venting system to let out the odor and smoke from the cooking range. They are usually wider than countertop microwaves. Hence, they can cook more food in a single batch.
Standard Size of Microwave (Over the Range)
The standard width of the over-the-range microwave matches the width of the cooking range (usually 30 inches) placed below. A 24-inches wide over-the-range microwave is another compact microwave option, but it is less frequently preferred by consumers.
Standard over-the-range microwaves have a 16-17 inches height, but low-profile microwaves are approximately 10 inches high, a height cut of 6 inches from standard size for constrained spaces.
Depth of standard over-the-range microwaves ranges from 15-18 inches.
| | | |
| --- | --- | --- |
| Dimensions | Standard Size | Low Profile/compact Size |
| Width | 30 inches | 24 inches |
| Height | 16-17 inches | 10 inches |
| Depth | 15-18 inches | 15-18 inches |
Over-the-range microwave internal capacity ranges between 1 cubic ft. to 2.2 cubic ft.
Built-In Microwave Dimensions
Built-in microwaves are installed in the pre-existing cabinets or under the counter. Some built-in microwaves are designed specially to fit in a pull-out drawer like a food or cutlery compartment.
Built-in microwave size depends on the counter or drawer size, but they have more depth than an over-the-range and countertop microwave.
| | |
| --- | --- |
| Average dimensions of built-in microwaves | Measurement In inches |
| Width | 24-30 inches |
| Height | 17-22 inches |
| Depth | 20-25 inches |
The internal capacity of built-in microwaves ranges from 1 to 2.2 cubic ft.
Selecting Microwave Size According to Family's Cooking Needs
You may have ample space in your kitchen to accommodate the largest size of a microwave. But if you have a small family, or you just utilize a microwave for reheating leftovers, then it would be useless to spend an extra amount on buying a premium large-size microwave. Additionally, microwave's internal dimensions are different from external dimensions, and internal dimensions and capacity determine how much food you can cook in a single batch.
Have a look at the table below to gauge your cooking needs.
| | | | |
| --- | --- | --- | --- |
| Capacity | Small | Mid-Size | Large |
| Internal capacity in Cubic Ft. | Less than 1.0 cubic ft. | More than 1.0 cubic ft. | More than 1.5 cubic ft. |
| Internal capacity in liters | Up to 25 L | 25-42 L | More than 42 L |
| No. of people | 1-2 | 3-4 | 5 or more |
The more the internal capacity, the larger the turntable a microwave can accommodate. 0.7 or 0.8 cubic ft. can house a 10 inches turntable, microwaves with more than 1 cubic ft. can fit a full dinner plate, and you can even bake large pizza or whole chicken.
For small family and basic microwave needs, have a look at our top-picks of the best 700 watts small microwave oven placed on the countertop!
Measuring Dimensions for Countertop, Over-the-Range, and Built-in Microwave
For finding the best fit for your countertop microwave, measure the approximate space where you want to place the appliance and find the microwave by keeping in mind the size of the microwave. Also, make sure that the electrical outlet is not far away.
Tips: 
Microwaves need ventilation space. So there should be at least 2 inches of a gap from the walls.
Microwaves shouldn't be placed close to the counter edge and should have a distance of 4-5 inches from the countertop edge. It's because some microwaves slide a little towards the front.
Microwaves should be placed away from the kitchen stove.
If you want a small yet power-packed microwave, you shouldn't miss this list of the best 900 watts microwaves.
For over-the-range and built-in microwave, remove your current microwave and measure the cut-out width, depth, and height. Microwaves should have a clearance space for venting, which is specified in the manufacturer's manual.
Tips:
For an over-the-range microwave, there should be a 30 inches distance from the microwave's bottom to the stovetop.
The sidewalls of adjacent cabinets should be at least 6 inches afar from the microwave's sides.
Wrapping Up!
If you are still unclear about the size of the microwave you can take the largest size bowl or plate you intend to use in it and check if it fits the microwave cavity. For over-the-range or built-in microwaves, you can take help from the manufacturer's website or the retailer's expertise. Retailers know the typical microwave dimensions that would suit your kitchen's space.