Kitchen Under 100 is supported by our readers. When you purchase an item through links on our site, we may earn an affiliate commission.
Spilled some coffee on the coffee table? Or are there water rings on the side table? Whether you use the best placemats for wood tables or the best coasters, you might end up getting that white haze on wood table.
Accidents happen!
They are a part of life and the only best way is to find a solution to every problem.
But before we discuss different solutions on how to remove white marks from wood table, let's understand the logic behind these white spots.
Don't miss our recommendation for the best placemats for wood table. Use of placemats is a proactive approach to protect table from white heat marks.
What Causes White Spots on Wood Tables?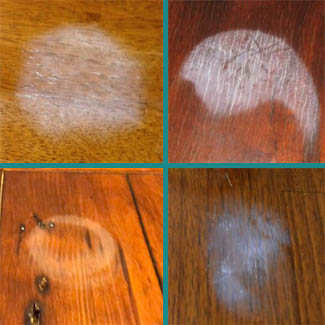 White haze or fog spots can rip off the beauty of the table. Years of abuse, negligence, and not using a protective layer (i.e. placemats, glass top etc.) can result in ruining the wooden beauty of your table.
Here are the two main reasons that cause white spots on wooden tables.
Liquid: The first thing that any woodworker or even layman could tell after seeing a white spot on wood is water stains. However, it's not necessary that it would always be water.
The wooden table's finish often gets damaged with time. And any liquid spill can seep through the pores of the bare wood and leaves ghastly stains.
Heat: Liquid isn't the only culprit of white marks. Hot plates and dishes when put on the wooden table, also cause these marks. Heat can open up the pores of the table. This heat and the moisture then traps itself within the varnish of the table and leaves white marks on it.
How to Remove White Spots From Wood Table [8 Easy Methods]
Without further ado, let's discuss a few ways to salvage your wooden table to restore its original beauty using nothing more than household items. For more such home improvement hacks keep following KitchenUnder100.
Removing White Marks Using Heat
Hair Dryer Technique
You might get shocked by the extraordinary fact that heat can remove heat marks from veneer. Unbelievable, Nah?
Because we have heard of heat causing damage to the wood only, and not clearing the white marks. But, yeah it actually can.
Set the hairdryer to its lowest temperature. Blow the hot air towards the target. And boom, the white marks will fade.
Steam Iron Method
Using steam iron is the most effective method to remove fog from wooden furniture. The first thing in this method is to dry the table.
Place a towel or t-shirt on the white hazy spot and place a steam iron on it on a medium setting.
Let it remain there for half a minute and check. If the mark has not disappeared try again till the stain is gone.
Note: Dry Iron won't work with this method.
Using Household Items
Baking Soda
You can clean almost anything with baking soda as it is one of the most efficient cleaning agents.
To remove fog from wood furniture, make a paste of warm water and baking soda following the conventional one tablespoon method (one tablespoon baking soda + one tablespoon warm water).
And apply it to the marks.
Note: If you need more amount of paste, then just increase the tablespoons of both. Keep the quantity equal, and don't use too much water. Else, it will further damage your table.
Toothpaste
Toothpaste is commonly found in every household.
Do you have one too?
We use it for cleaning our teeth and also sometimes for skin breakouts.
But who knew until now that it could be used as a white spots cleaner?
Apply a pea size of toothpaste to the affected area of your dining table and rub it gently. After counting 30, remove it instantly.
Use a damp cloth to remove it.
Don't let your table in contact with the toothpaste for more than 60 seconds. Otherwise, it will cause visible damage to the wood finish.
Note: There is a drawback to this cleaning method. Applying toothpaste removes the water stains, but it will affect the finish of your furniture. So you have to apply furniture polish or lemon oil afterward. Also, don't use gel toothpaste, use only white toothpaste.
Mayonnaise
Mayonnaise is another common product that we use in the kitchen. Its white creamy texture paste can virtually remove the white marks on the table.
Apply a small sized mayo to the affected area, place a paper towel over it and leave it for a few hours or overnight.
The sandwich topping will absorb the entire white residue off the table. Wipe the left mayonnaise in the morning with a damp cloth.
Note: This method doesn't work with water stains that have penetrated through the wood finish and discolored the wood. However, it can fade the marks.
Petroleum Jelly
You have always used petroleum jelly to soften your lips. But you would have never thought of using it as a white spot fader.
Apply it overnight on the affected area and wait for the magic to happen. In the morning, wipe the petroleum jelly, and there will be nothing left on the surface.
It's actually the oil in the petroleum jelly that does wonders to the table. It absorbs the white marks from the table, leaving back a crystal clear surface.
Car Wax
When you get a white mark on your black Chevrolet, car wax is a lifesaver. Similar goes for the tabletop.
Car wax can help to remove the heat mark more quickly than any other method mentioned in the list.
Apply some car wax, leave it for a few minutes to dry. And then wipe it with toilet paper or a soft cloth.
Salt and Water
Just like the baking soda method, this method is another top trick used for cleaning purposes. Seemingly, it can be applied to the white spots too.
Make a paste of 1 tsp. of salt and a few drops of water. Apply it to the white marks and rub it with toilet paper or any other soft cloth. Rub vigorously until the mark has gone.
You can use this method even to replenish the finish of your wooden furniture. Salt has a natural tendency to absorb dirt and leave a neat and clean surface behind.
Note: You can follow the same method with vinegar and salt to remove water stains from the table. Or you can mix vinegar with olive oil and apply it to the affected area.
This method will also help to restore the luster of your furniture.
Tips to Protect Wood Table from White Spots, Burn Marks, Spills
You have repeatedly heard the phrase that:
"Prevention is better than cure."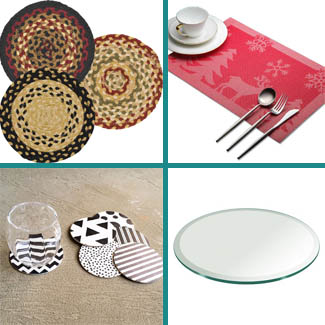 So why not take precautionary measures before getting into the problem. Adding a protective layer is the best-fitted method to protect wood table from heat marks.
These protective layering may include
Glass top
Heat-resistant placemats
Coasters
Trivets
They act as an insulator from heat or water to get on the table surface and can protect your wood table from all kinds of marks. The only thing is to ensure that the protective layering is heat-resistant.
Check the best heat-resistant placemats that can resist the heat and moisture from ruining your table.
If you are wondering that placemats are worth it or not, check out our detailed post on are Placemats out of style?
Wrapping Up!
No one among us wants to see our furniture getting ruined. Especially if that favorite side table of yours gets a spot, it's certainly a dent in your heart, not the table. So try our hacks to remove white spots from wood table. These methods will vanish the white haze off your elegant piece of table.