Kitchen Under 100 is supported by our readers. When you purchase an item through links on our site, we may earn an affiliate commission.
Unless you can wait for your food to turn into a cold mush or you don't care about your dining table, you should put your hot plates and pots on the table. Just don't mourn later that your dining table's beauty is ruined or your placemat just didn't work.
What? Can your table still get ruined even after placing placemats on it? Yes, it can. The reason? The placemat you bought was not heat-resistant!
Always choose right placemats that can protect your table from white heat fog marks and have a visual appeal too. However, it's not necessary that only an expensive mats will have all these qualities. You can find the best heat-resistant placemat under $50. With that in mind, we have designed a list of the best heat-proof placemats that you can buy to protect the finishing of your table.
Is there any difference between an ordinary placemat and the one that can resist heat? Yes, a big difference is the material and the thickness of the placemat. So, when you are ordering a new set of placemat for your precious table, don't just go blindly after the style and appearance.
10 Best Heat Resistant Placemats 2022 [Protect Table from Heat/Burn Marks]
1. DOLOPL – Best Heatproof Mats
Set of solid color placemats! Yes, these have solid colors. No textures, no extra designing at all.
Simply elegant and sophisticated. You can't go wrong by choosing these simple-looking placemats to enhance your table look. After all, not everyone likes flashy placemats.
These placemats topped our list of heatproof placemats for dining tables for the right reason. The reason is heat-insulated material, synthetic leather.
This leather can retain heat, and it travels very slowly through the material. Manufacturer says the placemats can bear heat up to 135 degrees Celsius.
You can put your steaming plates and pots on it without worrying about heat marks.
Speaking of material, the leather also allows quick cleaning. Simply wipe these placemats with a damp cloth or wash under a running water tap. You can also soak them in water if the food spill has dried.
Leather doesn't mix well with water. So, water or wine spills on the placemat can protect your wood table as the liquid spill won't pass through it.
Moreover, these placemats can fit any table size. If the size isn't to your liking, you can trim them to make them according to your preference.
PROS
Made of premium quality leather
Decent protection from heat marks
Water doesn't pass through the mat
Washable; makes cleaning super easy
CONS
Slide-around a bit on a glass table
A bit expensive compared to other placemats
You will get the most bang for your bucks with these simple yet elegant and functional placemats.
From the first look at it, you might feel the lack of design elements. However, the subtle and quiet textures and everyday functionality make up for it.
Made of Vinyl, these placemats are thick enough to resist the heat from plates up to 180 degrees Fahrenheit, making it a highly recommended heat-resistant set of placemats.
These placemats are available in myriads of colors which is a bonus. Choose any color of your liking to grace your outdoor get-together or indoor family meal.
Alipiriral placemats are perfect for families with kids. These are one of the best waterproof placemats, so even if your rambunctious kids splatter water or douse it with gravy, these placemats can be easily wiped and cleaned.
Size of these placemats is 13 x 18 inches which suits most of the dining tables. And their thick material makes them non-skid, unlike other flimsy plastic placemats which can't stay in their place.
According to our experience, they also minimize the clinking and clattering of glasses and pans, which are the most undesirable noises during the feast.
PROS
Beautiful and luxury design
Effectively protect table from heat & burn marks
Watertight surface won't let liquid pass through
These mats are very easy to clean
CONS
Takes a long time to dry after washing
They don't stay put on the table
3. SD SENDAY – Best Heat and Slip Resistant
What would a dark wooden dining table need? Yes, contrasting neutral-toned placemats that will elevate both the everyday meal setting and last-minute gathering.
The neutral-colored basket weave texture has just got the right hint of detailing while still being as casual as to use for everyday meals.
Thickness of this placemat is pretty decent and effectively protect tables from burn marks.
Made of vinyl with a corner sealing technology to give fray-less edges for long-lasting use. Size of each placemat in the set is 18x 12 inches size.
But what makes them special to be on our list?
These placemats are entirely resistant to heat and can save the grace of your table from unsightly burn and heat marks by coping up with the temperature up to 212 degrees Fahrenheit.
Not just that, this placemat is non-fading even after many washes. Speaking of cleaning, these placemats are washable and you can easily wash them with detergent and water.
The best part is you can even use a brush gently to scrub off stick dried stains. It is something you should look out for in washable heat-resistant placemats.
However, these can't be put in a machine for washing.
PROS
Made of eco-friendly & durable material
Thick enough to protect table from heat
Color won't fade after wash
Both sides of the mat are slip-resistant
CONS
Spills slowly leak through the placemat
Food particles get stuck in the woven surface
4. Glamburg – Best for Daily Use
Jute, "the golden fiber," is a natural material with shiny brown and beige color – imagine placemats of such rustic golden material! These jute placemats add a rustic charm to the tablescape.
Glamburg placemats are crafted by skillful artisans and woven into a braid shape. These placemats are designed in a square shape to give your meal-setting a shabby vintage look.
These will look best on the natural wooden table. The braided jute material is so thick that it can resist heat very well. You won't have to face any issue of burn, heat, or fog marks on your table wood or glass table.
Cleaning a jute material is a bit difficult especially, if it gets tough stains. You can spot clean tough stains but avoid any scrubbing or immersing them in water.
However, if one side of the placemat gets soiled with tough stains, you can use the other side and hide the ugly spots and stains.
They look perfect not just for indoor but for outdoor feasts too. These placemats come in a set of 4 and you can also buy a table runner with it.
So, if you are hosting a dinner with many guests coming over, you will have to order a few extra placemats too.
PROS
Provide very effective heat resistance
The mat stay firm on the wood table
Durable and sturdy
Best placemats for square table
CONS
Uneven sizes and colors
Liquid spills through the mat
5. Benson Mills – Best Heat Insulated Placemat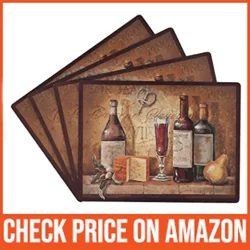 What could be better than a placemat made with cork to protect your table from scratches, spills, and heat marks?
You usually see coasters made of cork, but this placemat bring a touch of timelessness and vibrancy.
These placemats have a cork backing topped with a printed design. The printed design in itself is scratch-resistant and can bear the daily wear and tear.
As per our findings. the top film is also heat-resistant of up to 212 degrees Fahrenheit. Unlike other cheap cork placemats, the top coating doesn't peel off quickly.
These are perfect for a family with kids as they are effortless to maintain and clean.
Want to know the best part?
Benson Mills Cork Placemats have different designs and shapes for each season and every kind of table.
From rectangle to square and round placemats, these are fit for various shapes of dining tables. You can alternatively use numerous designs of the placemats as per the season or occasion. The various shapes and patterns allow them to be an ideal choice for your patio setting.
PROS
Extra-thick and heat-resistant placemats
The material is durable & long lasting
The mat don't slip around the table
Color won't bleed or fade
CONS
Hot dishes can cause peeling
Not suitable for large dinner plates
6. Bright Dream – Best for Protecting Table
If you are looking for textures and fun colors to brighten up your dreamy tablescape, then Bright Dream placemats are just for you!
Do you know what's so appealing about it?
Their captivating textures and range of colors make you feel instantly infatuated with these placemats. From elegant black and white to snowy red and gold, the color choices will make you overwhelmed.
Practically speaking, these are made of 70% PVC and 30% polyester, which is considered the high-quality composition for placemats.
Their color is non-fading, and they are stain-resistant placemats. However, annoying ketchup stains are problematic to clean.
Other than that, you can simply wipe or soak them in warm water to clean. Tough stains can also be cleaned by gently scrubbing brush over them.
It makes them perfect for everyday use in a family with kids that like to create a mess for mothers to clean later.
For people who like to enjoy a hot meal rather than stale and cold food, a placemat that is not heat-resistant would be useless. You can no longer enjoy food if your placemat gets burn marks.
These bright dream placemats will relieve you from worrying about it as they can bear heat up to 100 degrees Celsius without damaging the table.
PROS
Material is eco-friendly and non-fading
Protect table from heat, scratches, & stains
Available in 40+ stylish colors & designs
Can be wiped and hand wash
CONS
Ketchup & juice stains are difficult to remove
Liquid easily pass through placemats
7. JTX – Best for Protecting Glass Table
Want to achieve that Instagram-accurate dining table setting for your next dinner hosting? Tired of old and boring regular shapes?
JTX leather placemats add an extra refreshing look to compliment the theme of the dining area.
These contemporary placemats can add decorum to any table, but they serve as the best placemat for glass table or marble tables due to their modish style.
Like all placemats, they protect your table from scratches. But you will like the fact that they are completely waterproof.
So if you are enjoying a drippy meal and suddenly the juicy dripping from food creates a mess on your placemat, it won't tarnish your table top's finish.
Even if the placemats are waterproof, it will become useless if the greasy stains or food drippings are difficult to clean. In the cleaning test we washed these mats under the tap water and it came out sparkly clean again. You can also dip them in a mixture of soapy water for cleaning.
JTX placemats come in six different colors with an option for coasters too. This non-fading placemat is easy to store by rolling.
Use them for your evening coffee and conversation or in the office and restaurants; these versatile placemats can meet all your needs for outdoor or indoor dining.
PROS
Elegant design & stylish placemats
Top quality material, makes it highly durable
Top and bottom of the mat are non-slip
CONS
Smell bad when unpacked, but it vanish after couple of hours
Not easy to clean
8. TrivetRunner – Best for Hot Plates and Dishes
If timeless textures are your style mantra, then Trivetrunner heat-resistant placemats will live up to your desires.
To win over the guests, these placemats would be the best purchase decision as their understated style will impress everyone during the dinner. You don't have to sacrifice the functionality of placemats over looks.
First of all, these placemats are aptly named Trivetrunner because of their high resistance to heat.
Thanks to their quality material, polymer, and polyester, these are highly insulated and can bear up to 150 degrees celsius. Be carefree when you have these beauties placed on your table.
Besides their insulation property, they are anti-slip. Once you set these placemats on the table, they won't slip around with the slight movement of your hands.
Not just that, these are waterproof too. Accidental water spill is not an issue now. You can easily wipe clean them.
You can also use them together to make a runner. Available in a variety of colors and appealing design also makes it a wonderful gift for your friends or relatives.
PROS
Made of heat insulated Polymer and Polyester
Waterproofness makes it washable and easy to clean
Easy to use and store
Available in beautiful patterns & designs
CONS
Ketchup stains are difficult to remove
Color differs a bit from the sample images
9. CCcollections – Best Handmade Placemats
The charm of anything handmade is irresistible! The inviting textures and cheerful royal tones of these placemats are what make them a classy choice for your dining tables.
These Thai-style placemats represent the love of celebration and will look exquisite in any festive dinner party.
The beauty of these placemats is the availability of various colors to satisfy your desire to spruce up your dining tables. The thick heat-resistant placemats are made from natural hand-selected reed material and can protect the table from white heat marks.
These placemats is that they come in two variable sizes. So, if you have a small dining table, you can go for a small size. Small size is compensated with coasters that are included in it.
These eco-friendly placemats also make a great foundation for your decorative trinkets, and you can use it on your living room's center-table. Their material allows these placemats to be sturdy and non-slip on your dining table.
The placemat's bright hues, woven textures, and shiny borders are enough to garner compliments from everyone.
PROS
Nice decorative placemats for everyday use
Thick enough to protect table from heat
Its material make it durable and sturdy
Easy to clean and washable as well
CONS
Too slippery, not suitable for smooth surface
Spills leak through the mat
10. Aonewoe – Best Machine Washable
Ah! The soft feeling that comes with soft material. The felt-made Aonewoe placemats are just that!
They create an atmosphere for quiet talk and a calm experience during mealtime.
These are also available in various colors of black, grey, and beige, so you can choose a set of placemats that fits your dining area.
The most prominent feature of these placemats is their thickness that has increased their insulation properties. Also, it has made these placemats heatproof to protect the table from heat marks.
You won't have to be extra careful when putting hot plates on it.
In addition to that, these placemats are absorbent in nature, so they protect the table from spills. And if they get stained, you can wash them in the machine. If you are super conscious, then you can rinse your mat with warm water and soap.
Available in 18 x 12 inches, these are versatile enough to be used on any occasion. Their simplicity allows them to be used in formal business events too.
Match them with table runners to complete the dining table look and create a laid-back atmosphere to enjoy your meal.
PROS
Made of soft and absorbent felt material
Its 4mm thickness protect table from heat & scuff marks
Stay firm on the wood table
Machine washable
CONS
Stains are visible on light color placemats
It is not a slip-resistant placemat
What are the best heat-resistant placemats to buy in 2021?
DOLOPL
ALPIRIRAL Luxury
SD SENDAY
Glamburg
Benson Mills
Bright Dream
JTX
TrivetRunner
CCcollections
Aonewoe
Wrapping Up!
Heat-resistant placemats are hard to come by. One mistake in purchasing the placemat, and phew! It will cost you your dinner table. The appalling white heat marks and a ruined placemat can worsen your mood for many days to come. To avoid such a situation, always pay attention to the placemat material and thickness to understand its capability to absorb heat. We reviewed some of the best heat-resistant placemat in the hope that you can pick one easily that matches all your needs.