Kitchen Under 100 is supported by our readers. When you purchase an item through links on our site, we may earn an affiliate commission.
Setting wrong placemats on the round table is as offensive as someone's mouth-noises from chewing the food loudly. Imagine being in a feast and seeing over-sized and overlapping placemats on the round table!
Yes, they are absolutely cringe-worthy. You wouldn't even enjoy the delicious meal by seeing the round placemats on the gorgeous round table.
So, how can you set your round table to give it an elegant touch? What shapes, sizes, and materials can work wonders with your exquisite table? Don't miss to check out our recommendations for the best placemats for round table that you can use to add more style to your dining setting, you can also check these placemats for wood table if you are more curious about protecting your table.
How to Set a Round Table with Placemats
Let's have a look at some ideas to set placemats with a round table that can attract praise-worthy gazes from guests.
Size and Material Matters
The placemat size matters a lot when choosing a right placemat for the table. Before choosing a placemat, the only rule is that they shouldn't feel like they are over-crowding the table. And there should be at least 4 inches of space between each placemat.
Similarly, choose placemat material wisely according to the occasion. High-grade placemats not only speaks of their artistry but also protect table from burn marks because they are heat-resistant.
Think Irregular
It's not a regular table-setting of a rectangular or square table. It's a unique and creative setting where you will have to think out-of-the-box ideas. That's why irregular, asymmetrical shapes were created.
Pebbles shape or irregular shape will work best for your round table. Some of the designer's curved-shaped placemats come with a coaster. It adds a different dimension to your dining setting.
Wedge-Shaped Placemats
The wedge-shaped placemats coordinate well the round table. They often come with one side flat while the other side curved to add a sense of beauty to your table. It comes with both sides curved too. Either way, they are the perfect shape placemats for round table.
Go Creative
So, you are hosting a feast, but you don't possess the usual wedge-shaped or fan-shaped placemats to décor your round table. Then, let me assure you, it's not the time to worry; it's just the time to be more creative.
If you have a rectangular placemat, just turn it sideways to give your table a whole new look.
Charger plates or round jute placemats can also be used to give your round table the flair and beauty it deserves.
Have Fun With Embroidered Placemats
You can give your round table a festive look with embroidered placemats. Your table would liven up with colors, delicate embroidery details, cut-work, and leafy edges. The versatile designs and colors give you a lot of options to choose from.
Ideas to Style Round Dining Table with Placemats
For those who think placemats are out of style, must check out the images posted below: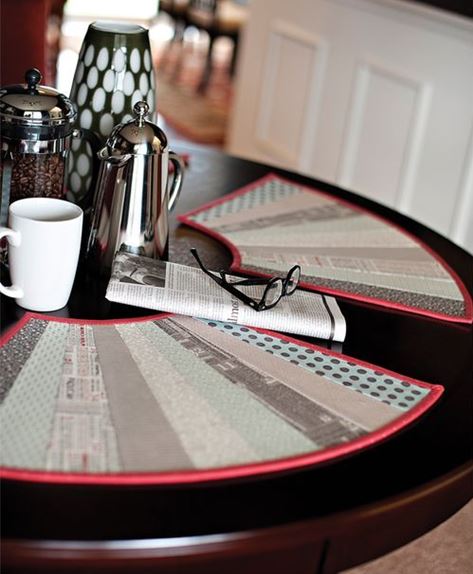 Wrapping Up
Choosing the best placemats for round tables shouldn't be a head-scratching and mind-boggling activity. Instead, it should spark creativity and fun to create happy vibes around the table. We hope our tips gave you good ideas to décor your round table.
Happy Feasting!