Kitchen Under 100 is supported by our readers. When you purchase an item through links on our site, we may earn an affiliate commission.
Various sizes of placemats and tables makes it difficult to determine which size would suit best on your dining table.
There is no one-size-fits-all criteria that should be followed. However, it is always useful to know standard sizes for every shape of table before ordering placemats.
It will help you avoid a cluttered look on your table from an oversize placemat. Similarly, what use would be an undersized placemat that will kill the purpose of catching food and liquid spills, leaving your tables with hideous stains.
If you opt for a store-made placemat or even if you choose to sew placemats from scratch, there is a guideline that you should follow. To help you guys picking a right set of placemat, we have curated a list of the best placemats for wood table and the best placemats for toddlers.
Guideline for Determining the Correct Size of Placemat
Cut out a rough paper-placemat for size determination. Lay it over your table to gauge the placemat size. This way, you can alter the size to fit your needs.
There should be an adequate space among each placemat; so they don't overlap. A 4-5 inch space is considered good enough to achieve a neat look.
The right size for the placemat can also be guessed by placing dinnerware over it. If you use large size plates, a smaller placemat will look awkward.
Measuring your table length and width will also help you pick the right size of placemat.
Cloth placemats can shrink. If you choose to sew a placemat, always buy extra cloth for it and pre-soak it overnight to avoid shrinking afterward.
What Size Are Placemats?
If you are having a tough time in choosing the right size of the placemat? No worries, KitchenUnder100 brings a complete guide to determine correct sizes for each shape of placemats and make the buying decision easy.
What Is The Standard Size/Average Size of Placemats?
The standard or average size of the placemat is:
Width: 12-14 inches
Length: 16-20 inches
If you are sewing your placemat, you can choose length and width in between this range. Just keep in mind that there must be 6-inch space between them when you lay it on the table.
What Size Are Square Placemats?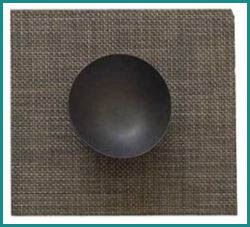 Square placemats standard size is 13 x 13 inches
However, you can find a square placemat as small as 8 x 8 inches.
And as large as 16 x 16 inches.
Square placemats are best for square table or should be used with rectangle dinner tables.
Since their length is shorter than rectangles, they may not be a good choice if you wish to place cutlery on it.
The best way to style placemats with a table runner on formal dining prevent damaging the table from putting forks and spoons directly on the bare table.
What Size Are Rectangular Placemats?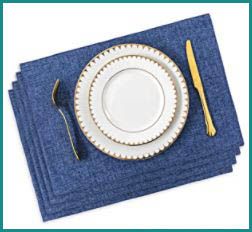 Most rectangle size placemats come in 12 x 16 inches size.
However, owing to the different size requirements and table measurements, placemats are being made in varied rectangle sizes.
You can hand sew in 11 x 17 inches too.
Another commonly available size is 12 x 18 inches.
The largest rectangle size placemat is 12 x 24 inches. It is suitable for long rectangle tables with far sitting arrangements or when you want to put all your dinnerware including, forks, knives, spoons, and glasses over it.
What Size Are Round Placemats?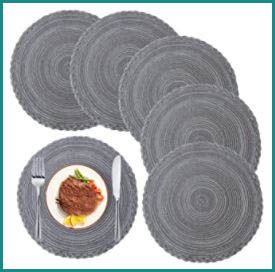 The standard size of a round placemat is usually 12 x 12 inches.
Variation includes 14 x 14 inches or even 15 x 15 inches.
These round table placemats look better on oval or rectangle tables, as the shape of your placemats should contrast the shape of your table. Round placemats also are not meant to put your cutlery down on it too.
Note: Round placemats don't suit every table. You can make a rough round template to check the look on your table.
ALSO CHECK – How to Set a Round Table with Placemats
What Size Are Quilted Placemats?
The size of quilted placemats depends on its shape. The quilted placemats come in a variety of shapes, including non-linear cuts.
Rectangular quilted placemats size is usually 12 x 18 inches or 13 x 19 inches.
Round quilted placemats are 17 inches in diameter.
However, their edges and corners may be round or scalloped. These placemats are usually in a bright color and thick enough to keep hot plates on it.
What Is The Small Placemat Size?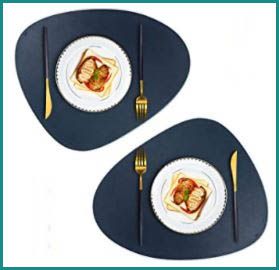 Anything less than 12 inches is considered a small size for a placemat, be it round, square, or rectangle.
For the rectangle, the small sizes are 9 x 12 inches.
Other size options may include 10x 15 inches or 9 x 14 inches.
For round placemats, the size options can be found as small as 7 inches up to 10 inches in diameter.
Small placemats are used if your table size is small or you are using small plates for toddlers.
These can also be used for snaking, birthday or tea-parties or if you have an exquisite wooden table and do not want to veil the beauty of it by placing oversized placemats on it.
These small size mats are also considered as the best placemats for marble table because it doesn't hide the glossy look or beautiful veins or running all over table.
What Size Placemats for Round Table?
Choosing best placemats for round tables seems tricky as round placemat on round tables don't often suit. Irregular shaped or wedge-shaped are usually made for round tables.
The standard size for a wedge-shaped placemat that is suitable to most tables is:
Flat side: 12 inches
Height: 12 inches
Wide curve side: 18 inches
Placemats Size and Shape Chart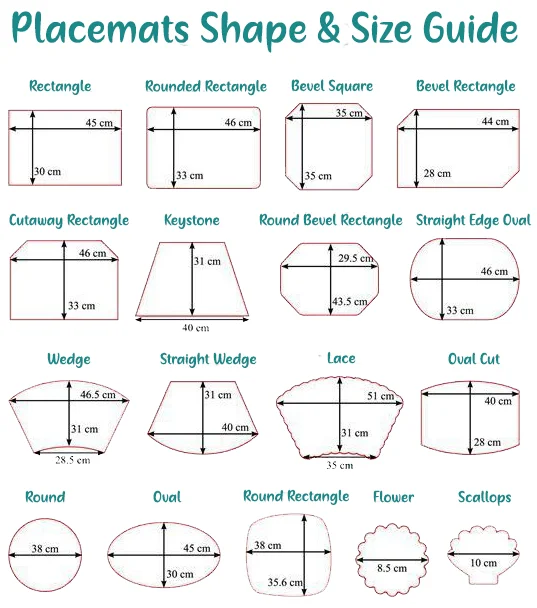 What is a Good Size for Placemats?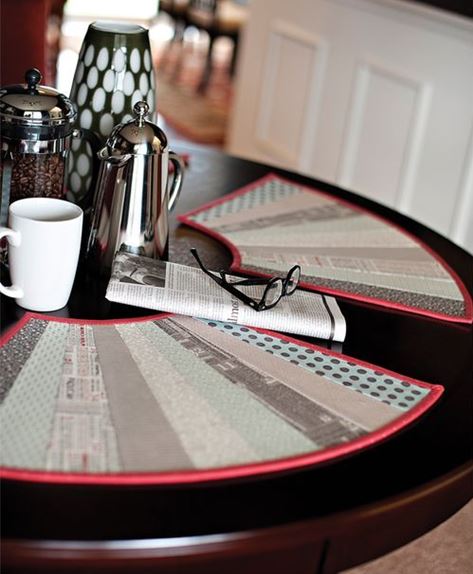 The rule of finding a good size placemat is simple: pick the placemat that suits your table size and looks pleasing to the eyes.
It should neither give the table a cluttered look nor should it be so small that it can barely hold the dinner plate or cutlery.
While 12 x 16 or 12 x 18 is considered standard size for rectangular shape mat. The irregular shapes like pebble shape or leaf shape should be checked by placing it on the table.
ALSO LEARN – What Are Placemats Used For?
What is The Sewing Size of Placemats?
Once you figure out the actual size of the placemat you need for your table, add ½ inch per side for the seam allowance.
For example, if you want your final placemat size to be 12 x 16inches, you will cut 13 x 18 inches of fabric.
For a round placemat of 13 inches diameter, you will need to cut 14 inches diameter cloth.
For a square placemat of 10 x 10 inches, cut 11 x 11 inches of fabric.
But don't forget to prewash your fabric to avoid shrinking later on.
Everyone must go through this guide on: how to choose placemats before buying a placemat for your table.
How Much Fabric Do I Need for 4 or 6 Placemats?
The fabric requirement for making 4 or 6 placemats depends on the size of placemats.
A 12 x 18 inches size placemat would require 2 or 3 yards of fabric. And if you are using two different fabrics for the front and back, you will need 2 yard of fabric for each color.
Hand-sewn placemats require interfacing. It needs 1 ¾ yard of interfacing.
11 x 17 inches or 12 x 18 inches will also need 2 yards of fabric as there isn't much difference in the size.
You may also like to find out are placemats out of style or not?
How to Sew Placemats?
Here is a quick video tutorial on how to sew placemats at home.
Wrapping Up!
If you opt to sew your placemat, then you have the freedom to make custom size placemats. However, if you plan to buy them, then checking through the above standard sizes will help. The only thing to keep in mind is never to purchase an oversized placemat that will overlap each other or too small sized placemat that will simply look like a formality in the name of a placemat.