Kitchen Under 100 is supported by our readers. When you purchase an item through links on our site, we may earn an affiliate commission.
The glass dining table adds a modern flair with its irresistible charm. It radiates sophisticated and contemporary appeal with its polished transparent surface. However, the placemats are necessary to use with a glass tabletop.
You can't imagine what carelessly putting dinner plates or hot bowls can do to your beautifully looking glass dining table. A good placemat protects glass table from scratches, heat marks, and creates the ambiance and sets the tone for dining before anyone lifts the fork.
When looking for the best placemats for the glass table, you should consider a placemat that is non-slip because glass has less friction. Also, buy a placemat that can resist heat and should be cleaned easily.
The trending minimalist designs work in harmony with the glass table. Too showy and boom! You can successfully destroy the beauty of the glass table. After testing, we have rounded up some of the glass table placemats that harmonize with your interior and occasion.
10 Best Placemats For Glass Table 2022 [Scratch & Heat Protection]
1. Bright Dream – Best Wedge Shape Mats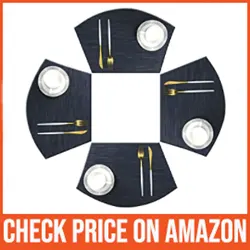 Material: Polyester || Size: 18×12 inch || Colors: 9 || Washable: Yes || Heat-Resistant: No || Slip-Resistant: Yes || Waterproof: No
Your most adored glass dining table needs special care. If the glass table is round, then an ordinary placemat will not work.
These placemats from Bright Dream have a wedge shape that is made specially to match the round edges of the dining table.
These placemats reflect the minimalist decorating style by flaunting simple design. Although the placemats are made from the combo of PVC and Polyester, their texture resembles bamboo.
The bamboo texture gives it a close-to-nature look.
The biggest perk of these placemats is, they are easily washable. While several other placemats are only wipeable and can't be washed freely, you can immerse them in warm soapy water to remove stains.
However, as a word of caution, ketchup stains should be avoided as these stains are tough to remove.
It not only protect the glass top table from scratches, but it is also heat resistant. You can easily place any hot plates and pots under 100 degrees centigrade on it without any fear.
However, liquid spills can seep through the placemat, which shouldn't be an issue as glass tables are easy to clean.
PROS
Effectively protect table from stains & scratches
Material is non-fading & eco-friendly
Best placemats for round table
Very easy to clean & washable
Cons
Juice stains are difficult to remove
A bit thin
2. Pigchcy – Best Non Slip Placemat
Material: Polyvinyl Chloride || Size: 12×18 inch || Colors: 30 || Washable: Yes || Heat-Resistant: No || Slip-Resistant: Yes || Waterproof: No
The contemporary look of the glass table requires nothing more than elegance and sophistication. Even the quiet textures and natural tones can amp up the glass table.
The beauty of Pigchcy placemats is that there is nearly an endless assortment of colors to choose from. To add to that, the various texture styles will get you hooked.
When it comes to choosing a right placemat, it's not just about the looks.
Placemats should have everyday practicality to bear the spills, hot plates, and light scrubbing during the cleaning process. Fortunately, Pigchcy placemats live up to all the standards.
These placemats are made of 70% polyester and 30% PVC, and serve as the best slip-resistant placemats, which is essential to any glass table. They come in standard size of 18 x 12 inches.
Whether you are hosting a get-together, arranging a birthday party, or having guests for Christmas, the wide variety makes it the perfect choice for all occasions.
Now, you won't have to stare at your kids with rage in the eyes when they are creating a mess while eating food, as you can easily clean the placemats later.
Immerse them in soapy water or wipe them to make them sparkly clean again.
Note: Immersing in warm water also removes folding lines.
PROS
Highly durable & thick placemats
Both sides of the mat are non-slip
Available in a wide range of colors
Easy to clean and dry quickly
Cons
Not suitable for high temperatures
Not machine washable
3. Shacos – Best for Round Table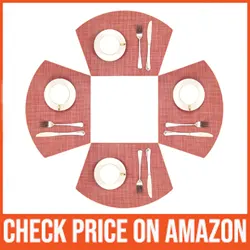 Material: Polyester & Vinyl || Size: 11.8×17.7 inch || Colors: 18 || Washable: Yes || Heat-Resistant: No || Slip-Resistant: Yes || Waterproof: No
The beauty of a glass dining table is that any colored placemats can suit the table and accentuate the whole dining table look.
Shacos placemats come in a variety of colors. You can match them according to your dining room's interior.
Like Bright Dream placemats, they are also in wedge-shape, which is perfect for a round glass table. These placemats flaunt bamboo texture; however, the texture differs in some colors.
Composed of PVC and polyester, these placemats reduce the pain of cleaning. They can be either wiped or washed in hot soapy water.
Not just this, these placemats are reversible. So, even if one side of the placemat gets stained, you can use the other side of the placemat.
Use these placemats as a decorative base to keep your vases, centerpiece, or place your silverware on them; these versatile placemats give you many choices.
When it come to heat-resistance, as per our experience it is not that good. The mat shape and material can be spoiled due to high temperature of dishes and bowls.
Read detailed review of SHACOS Wedge Shaped Placemats.
PROS
Composition is durable & sturdy
Protect table from food mess & scratches
Can be placed on tables, vases and ashtrays
Both sides of placemat can be used
Cons
A bit thin compared to others in the list
Hot dishes can damage the mat and table
4. U'Artlines – Best Heat-Resistant
Material: Polyproplene & Cotton || Size: 15 inch || Colors: 8 || Washable: No || Heat-Resistant: Yes || Slip-Resistant: Yes || Waterproof: No
These mesmerizing placemats for round table combine two weaving textures. A fine yet dense texture inside and the braided round border on the outside.
The uniqueness of these placemats makes a statement, standing out in the plain placemats.
Crafted with cotton, these placemats come in sophisticated color choices and will impress your guests with their natural and understated look. These placemats are just a pop of color in your otherwise boring dinner feast.
Size of this placemat is 15-inches in diameter that is the desired size of any round placemat. It is also an ideal size placemat for square table.
Apart from protecting your table, you can use it for creative and decorative purposes as well. Place your vases on it or use them during parties, evening tea; the choice is all yours.
Being weaved with cotton, these are considered as one of the best heat-proof placemats. Heated pots and pans won't damage or leave fog marks on your glass table.
These luxurious-looking placemats can be hand-washed easily in warm water. Washing or wiping them won't cause shrinkage or fadedness.
PROS
Made of durable & non-fading material
Heat-resistant up to 180°F
Cross woven pattern prevent slipping
Available in 30+ colors & designs
Cons
Liquid seep through the mat
5. Home Brilliant – Best for Glass Dining Table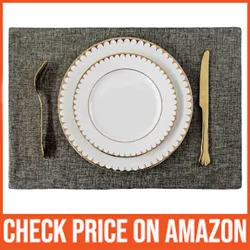 Material: Polyester Blend || Size: 13×19 inch || Colors: 14 || Washable: Yes || Heat-Resistant: No || Slip-Resistant: Yes || Waterproof: No
The simplicity and elegance of linen is unparalleled. These Home Brilliant placemats are hand-crafted with environmental-friendly faux linen. The linen material is timeless and will always remain in style!
These glass table placemats are meant to be donned with something that is stylish yet gives us a luxurious feel, and Home Brilliant placemats hit all these marks!
Available in a multitude of colors and in a size of 13 x 19 inches. You can mix and match placemats for a unique look or pair it with a matching table runner or tablecloth.
The size and design make these placemats an ideal choice for glass tables. You can use it every day without having to worry about stains.
They are stain-resistant placemats and can be easily washed into the washing machine. However, hand cleaning is preferred.
The color won't fade, nor would it shrink after washing. It makes it last longer than other placemats. These aren't water-proof, of course, but they protect your exquisite glass tables from scratches.
PROS
Very attractive colors and designs
Made of eco-friendly material
Protect glass table from scratches
Easy to clean and machine washable
Cons
Not a good resistance against heat
May have 1 inch error due to handmade design
6. Wazaigur Red-A – Best Round Shape
Material: Polypropelene & Cotton || Size: 14 inch || Colors: 6 || Washable: Yes || Heat-Resistant: Yes || Slip-Resistant: Yes || Waterproof: Yes
It is another round placemat on our list! If you are looking for a placemat for a square glass table, then a round shape would look perfect on it.
These are weaved softly with cotton to create a simple concentric design that can stand out from other designs with its simplicity.
The color choices in these placemats are so apt, and you can contrast it with your interior. If you are hosting a feast outside, then you can choose more vibrant colors matched to the occasion.
These are 14-inches in diameter that is enough for you to keep your dinnerware on it.
As it is woven with cotton, it can bear heated plates without harming the placemat and table. The best part is that these are so soft that you can roll them to store when not in use.
Another important factor is cleaning. Yes, these are easily washable by hand. However, avoid hard scrubbing to remove stains.
PROS
Braided design prevent slipping
Thick enough to protect table from heat & scratches
Made of chemical-free durable material
A perfect mat for daily use
Cons
Food particles get stuck in braided design
7. Shacos – Best Braided Placemats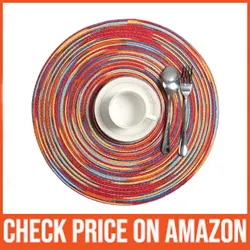 Material: Polypropylene & Cotton || Size: 15 inch || Colors: 27 || Washable: Yes || Heat-Resistant: Yes || Slip-Resistant: Yes || Waterproof: No
Shaocos placemats have concentric circle braided designs that fit on any shape of table.
These placemats come in an array of colors ranging from neutral hues to more vivid rainbow red and hot pink tones.
Such a variety of colors give you a choice to use it in a semi-formal gathering or any informal outdoor feast.
Its feasty colors were meant for sharing togetherness and enjoying meals with friends and family. For that, Shacos gives you the chance of choosing the different quantities according to your family or guests.
Crafted with polypropylene and cotton, these stylish placemats are designed to keep everyday functionality in mind.
These placemats artistry and charm is the reason that they can be used as doilies to put vases or other trinkets on them.
To clean them, you can simply wipe them with damp water or hand wash them with soapy water.
The material that goes into its making is the reason it's not water-proof. Any spills can leak through the placemats.
Their wide collection of placemats, neutral and vivid hues gives you lots of choices to pick and gift it to your loved one.
PROS
Extra-thick heat resistant placemat
Braided surface prevent slipping
Protect table from scratches and scuffs
Reversible design allows both sides to be used
Cons
Looks best on round table only
8. Pabusior – Best Water Resistant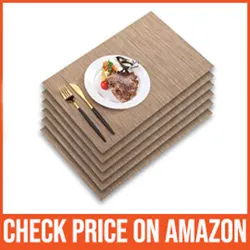 Material: Vinyl || Size: 18×12 inch || Colors: 5 || Washable: Yes || Heat-Resistant: Yes || Slip-Resistant: Yes || Waterproof: No
Pabusior placemats exhibit simplicity but still show off their fun and vibrant colors, making them exquisite and impressive among others.
The minimalist design is a classical choice for both formal events and informal gatherings, including Christmas and holiday events.
Their standard 18 x 12 inches size is best for both square and rectangle tables and these versatile placemats can be used in hotels, restaurants or business conferences.
The woven pattern and solid colors of these placemats can be matched with tablecloths and table runners to complete the look of the dining table.
Vinyl placemats are known for their durability and ease of cleaning, and Pabusior placemats are no exception to these. They can be effortlessly cleaned by simply wiping them.
These placemats are not water-proof and the liquid spills can seep through. However, if you plan to place it on the glass table, then cleaning glass is way easier than cleaning a wooden dining table.
Want to know the best part? These placemats can be recycled. Yes, when you get bored with them, you can cut them and use them for your DIY projects or for making coasters out of them.
PROS
Thick and heat-resistant placemats
Protect table from scratches
Braided design makes the mat non-slip
Durable quality at an affordable price
Cons
Food particles get stuck in in the braided surface
A bit difficult to clean
9. Baby Mumbo – Best for Toddlers
Material: Silicone || Size: 10×16 inch || Colors: 10 || Washable: Yes || Heat-Resistant: No || Slip-Resistant: Yes || Waterproof: Yes
We often overlook placemats for kids while buying placemats for the whole family.
An ordinary placemat is never a good choice for toddlers. It is a good idea to buy separate placemats for kids, especially if they are dining with you on a glass dining table.
Baby Mumbo placemats are specially designed with silicone. The mat is free of all hazardous materials such as BPA, BPS, PVC, and lead, making it safe for your toddlers.
Kids who like to transfer food from plate to table can have their food free from toxic chemicals and without creating a mess.
One unique quality about this design is the drop-tray that comes in handy if there is a gap between the chair and the dining table. The drop-tray can alternatively be used for keeping cookies or other food for kids.
In addition to that, Baby Mumbo placemats come in different colors to choose from.
When it comes to choosing the placemat for kids, the non-skid property of the placemat should be given a due preference for obvious reasons. This is a sticky placemat doesn't move here and there while kids are playing with the food.
Baby Mumbo a best placemat for kids. It is water-proof, and cleaning this placemat is a breeze. You can manually clean it with soap water or put it in the dishwasher after use.
PROS
Made of toxic-free food grade material
Can be attached to baby high chair
Very lightweight & portable
Easy to clean washable placemat
Cons
This mat is not heat-resistant
Big kids can easily remove the mat from table
10. Topotdor – Best Washable Table Mat
Material: Cotton || Size: 14 inch || Colors: 13 || Washable: Yes || Heat-Resistant: Yes || Slip-Resistant: Yes || Waterproof: Yes
The irresistible braided beauty of these placemats gives the dining table a warm cozy feeling.
The coldness of the glass table coupled with the warmth of thick cotton placemats strikes a perfect balance for the dining area.
Another great thing about these placemats is the variety of colors. Each color placemat is crafted with light and dark hues of yarn. These playful colors make it perfect for outside meal settings or even indoor dining.
You can even use these for casual evening tea or as a décor piece for your center table.
Owing to its cotton material and thick braided texture, these placemats are one of the best heat-resistant placemats for table.
A glass table requires nothing more than a placemat that doesn't skid by the slight movement of our hands and Topotdor placemats are non-slip placemats.
Cleaning Topotdor round placemats is quite simple. Just wipe it down with a damp cloth. Avoid scrubbing hard, or else the braids will fall apart.
PROS
Premium quality eco-friendly material
Elegant design suitable for multiple occasions
Heat and slip resistant
Highly durable and washable mat
Cons
Cleaning is a bit difficult
Takes long time to dry after wash
What are the best placemats to protect glass table from heat and scratches?
Bright Dream
Pigchcy
Shacos Round Shaped
U'Artlines
Topotdor
Wazaigur Red-A
Shacos
Pabusior
Baby Mumbo
Home Brilliant
Wrapping Up!
The luxurious look of the glass dining table can only be completed with the right choice of the best placemats for glass table coupled with the right tableware. They set the tone of the feast. The calm beauty of the glass table synchronizes with a placemat that is not too bold yet not too quiet. To ease your confusion in selecting the placemats, we have reviewed the best placemats for the glass tables. We hope you find it useful in the search for placemats.