Kitchen Under 100 is supported by our readers. When you purchase an item through links on our site, we may earn an affiliate commission.
Ahh! The unending confusion – can we use placemats with a table runner? Is it okay to lay placemats over a tablecloth?
These questions become bothersome, especially if we are having guests for dinner. We want everything to be flawless, from guest entrance to menu and table settings.
While our top priority always seems to be the menu, putting off table settings to the last minute can create chaos and inescapable panic.
From choosing tableware, napkins, finding dining table trinkets, and running around the house to iron tablecloths – the list seems to go on.
To add to the panic, we get puzzled in choosing among table runners, tablecloths, and placemats. We don't want to overlook the basic culinary etiquette from using the wrong combination to disenchant the tablescape.
To avoid the mishap of wronging the tablescape, let's look at the etiquettes of setting the dining table. For styling and protection of your table you can check our top tested recommendations for the Best Placemats for Wood Table.
Do You Use Placemats with a Table Runner or Tablecloth?
Generally, a tablecloth or placemat is used separately depending on the occasion. But you are not breaking any etiquette rule by using placemats with a tablecloth.
Similarly, placemats can also be used with a table runner to enhance the mood and make the dining experience memorable.
Tablecloth for Formal Dining
A crisp tablecloth is preferred for formal dining. Some people even prefer using it for everyday dining too but it's difficult to manage and clean the tablecloth if it gets stained.
Placemats for Casual Dining
Placemats are widely preferred for everyday and casual dining. The large variety of mats material and design has given us the choice to select placemats according to the mood and occasion.
How to Use Placemats with a Tablecloth?
Placemats with a tablecloth aren't extra and senseless, but they add the layering to the table and create a visual appeal. The question arises how we can use the placemats with a tablecloth. Again, it all depends on the occasion.
For Formal Event
Colors: Use natural tones, light colors, or white tablecloths for a formal dinner setting. Don't go for vibrant or bold colors. With a light-colored tablecloth, choose a contrasting color placemat that gives the table a sophisticated look.
Designs: Either use a plain tablecloth or a very subtle design in a formal gathering to soften the ambiance of the dining room. The same rule applies in choosing the best placemats.
Don't choose a placemat that will create a holiday impression on guests.
Material: Although plastic tablecloths are also available, they are a big no to formal events. Instead, use a crisp linen or cotton tablecloth in formal occasions.
For Informal Events
Colors: Informal gatherings means creativity, colors, and textures. Depending on the season and event, you can choose bold, vibrant, and contrasting colors for both placemats and tablecloths.
Designs: Since it's an informal gathering, you get to be creative with designs too. Choose playful designs for events like birthday or Christmas celebrations and creative textures for informal holiday gatherings.
Material: Informal gatherings means comfort and flexibility of choice in materials of both placemat and tablecloths.
A Few Tips
Measure the table and figure the amount of drape you want from your table. Ideally, 8 to 12 inches of tablecloth drape is better for formal occasions. However, there is no set rule for informal events.
If you are using a full-length tablecloth for the buffet, there is no need to use a placemat in this décor.
Round tables require extra effort in table setting. Carefully measure the diameter of the round table before setting it with a round tablecloth.
Setting a round table with placemats is a difficult task. For that, you can add layering by using both tablecloths and placemats. The right size of placemats for the round table is essential to avoid overlapping.
[quote style="default"]ALSO CHECK –
How to Choose Placemats
[/quote]
How to Use a Placemat with a Table Runner
Using a placemat with a table-runner is a way to dress up the table for getting admiring gazes from guests.
You are definitely not breaking any etiquette rule by using a placemat and table runner; in fact, the whole point of using a table runner is to add texture and color and protect the table from heat marks, food spills and even candle wax from the centerpiece.
Decorating a table with a table runner requires only a little effort, and in return, it adds interest to your tablescape.
A set of good heat resistant placemats along with a table runner can save your precious table from all kind of damages.
Uses of Table Runner
On a Wooden Table: If you have an exquisite wooden table, a table runner along with placemats is the best choice to show off your table beauty instead of hiding it beneath a tablecloth.
With a Tablecloth: Instead of using a table runner on a bare table, you can layer it on top of a tablecloth to give it a more decorative touch.
Other Uses of Table Runner include placing it on the bedside table, center tables, coffee tables even the patio tables.
Placing it Lengthwise or Across the Table: Although placing the table runner lengthwise is customary, you can also use narrow table runners across each table and decorate it with placemats.
Size of Table Runner
The first thing before setting the table is to determine the size of a table runner. The size of a table runner depends on the table drape. The drape can be anywhere between 2 to 6 inches.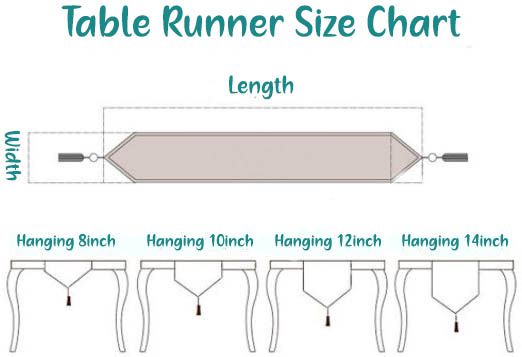 However, you can also use a short table runner to create focus on the center decorative piece. The width of a table runner should be such that it covers the ⅓ of the table. It leaves enough space for placing the placemats too.
Match Table Runners with Placemats
Placemats should be in the same color or texture as a table runner to harmonize the décor. Placemats should complement the table runner to make the occasion special.
Contrast Table Runners with Tablecloth
If you are using a table runner over the table cloth, then do not use similar colors. Use contrasting hues to make the placemats stand out.
Choosing a right placemat for a table having a marble top is a bit tricky, we recommend you to check our list of the best placemats for marble table.
Can We Use Placemats for Formal Occasions?
Placemats are definitely being used at formal occasions too. Luxe style and designs of placemats add a nice touch and décor to the formal meal. But of course, "degree of formality" also counts.
If the dinner is not for "the president is coming for dinner", but still the event is formal; placemats are an excellent option for that semi-formal occasion.
Wrapping Up!
Placemats are not out of style with their varied uses. From using placemats alone on a bare table to layering it with a tablecloth and table runner, placemats definitely add interest and décor to the tablescape. The dining table, if arranged properly, can set the background for warm conversation, heart-to-heart talk, and to enjoy the meal that will be remembered till years to come.