Kitchen Under 100 is supported by our readers. When you purchase an item through links on our site, we may earn an affiliate commission.
From hand-woven and natural jute to crochet, leather, vinyl, or wooden, placements come in plenty of materials. They add décor to any setting, and yet they are functional for everyday use. Placemats can transcend ordinary dinner into a special one. 
But imagine the horror!
A big stain of spilled wine or ketchup caught your eye while serving desserts to the guests. You start mourning for your favorite placemat that will just sit in the storeroom unused. You smile while silently killing the guest thrice in imagination. 
But fret not!
You can still salvage your placemats and sanity both by using some stress-free ways to clean placemats. Cleaning requirements of each set of placemats are different.
We bring you a guide to learn how to clean placemats made of bamboo, jute, and cloth mats. You should also check our recommendations for the best placemats for wood table to protect it from burns and heat marks and to control mess of little ones you must have the best placemats for toddlers.
How To Clean Placemats [Bamboo, Jute, Cloth, Vinyl Mats]
To guide you on cleaning placemats KitchenUnder100 brings comprehensive tips and steps that will help you to remove food stains and dirt from the placemat easily.
Check Manufacturer's Instruction
The first and foremost thing is to check the manufacturer's instructions to make your placement sparkly clean. If there's any specific instruction like hand wash, machine wash detergent specification, follow it.
On-the-Spot Cleaning
Do not let the mold and germs grow on your placemat. Disinfect and clean stained placements immediately after using. And never let stains and spills sit on your placemats for long. Else, it will be more challenging to clean them.
The Material of the Placemat Matters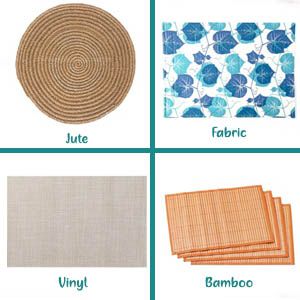 Not all placemats are the same!
The placemat comes in various style and materials ranging from plastic, vinyl, fabric to bamboo and jute. Each type of placemat requires different methods and extra care to keep it clean. Plastic ones are the easiest to clean, whereas jute and bamboo need special care. Treat your placemat according to its material.
Spot Cleaning for Various Stains
Always spot-clean first before cleaning it thoroughly. And for efficacious cleanup, you need to recognize the stain as some stains require special treatment like red wine or oil spills.
Similarly, a few stains need warm water, and others may require cold water treatment. Treating it as per their condition can give the best results and leave your placemat spotless.
Tips to Wash Different Kinds of Placemat
Now, let's have a look at different methods to maintain placemats of various materials.
How to Clean Bamboo Placemats
The vintage bamboo placemats add a rustic touch to your décor and dining table. They are also heat-resistant placemats, effective in protecting wood table from heat marks and glass table from scratches. Almost all good quality placemats have a protective coating making them stain-proof to an extent.
Bamboo isn't wood; it is a tree-grass substance and hence fragile and can lose shape if we immerse it in water. And all sorts of foods can get stuck into the bamboo's porous surface, therefore more susceptible to absorbing and harboring bacteria. 
Use the following steps to clean stained placemats.
Step 1: Brush off your placemat to clean all the residues of food that might have gotten stuck in the strands.
Step 2: Mix 1 tsp. of salt with 1 cup of lemon juice/vinegar and spray it over the bamboo placement. Use a soft-bristled toothbrush to reach the nooks and corners of the bamboo mat. Let the solution sit for 5-10 minutes. The acid in vinegar or lemon will not only dissolve the grime but also help it disinfect.
Step 3: Gently spot clean any oil or food stain with rubbing alcohol before cleaning the entire mat.
Step 3: Put a mild detergent or dish soap (preferably a PH balanced mild soap) in warm water.
Step 4: Dampen the sponge in this solution and clean both sides of the placemat with it. Avoid vigorous scrubbing.
Step 5: Pat-Dry with a dry and clean cloth to the best of your ability. And let it air-dry before reusing it.
Step 6: You can use mineral oil or food-grade bamboo oil to freshen up the placemat.
Things to Avoid
You can't wash bamboo placemats in the washer. Hand-clean it thoroughly but gently.
Bamboo is woven together by strings. Vigorous rubbing will loosen it up and do more harm than good.
Don't immerse it in water. The bamboo strands will soak the water and swell. It will result in out of shape and bent out bamboo strands.
How to Clean Jute Placemats
"The Golden Fiber" jute is prominent for its sunlight color and variety of uses. Jute is made into rugs, décor items, and placemats.
Jute material is perfect for making placemats for wood table and is also heat resistant placemats. However, jute fibers are brittle so cleaning the jute placemats requires a lot of care.
Step 1: The first step in cleaning an accidental food spill is to use an absorbent cloth. Just press firmly on the spot to absorb the moisture from the jute fabric. Don't rub the spot in different directions; it will only spread the stain.
Step 2: If the stain is visible, and washing the jute is a must, then use a mild detergent only at the spot. Gently clean the stain with a sponge and a dab of water. 
Step 3: You can also clean the entire jute surface with a dampened cloth and mild soap like this. 
Step 4: After tackling the stain, immediately use a hairdryer to dry the placemat.
Step 5: If the solid spill has dried, use a soft bristle brush or a dull knife to scrape the solid. And use a mild detergent with cold water to spot clean the stain.
Step 6: If there is a red wine stain or acidic spills of tomato, use club soda with a dampened cloth to clean the spill. Later clean it with mild soap and dry it.
It doesn't matter whether you have placemats for marble table, wooden or glass table, the cleaning methods will remain the same.
Things to Avoid
Do not rub the stain; rubbing will shed the fibers and weaken the strength of it.
Even though jute is a strong fiber, moisture and water can disintegrate the fibers and loosen their strength. So, immediately dry the placemat with a hairdryer.
Please do not keep it in the sun to dry; always keep your jute in the shade.
Do not wring or twist the jute placemat while cleaning.
Clean the spill immediately; it is challenging to clean old and dry stains.
How to Clean Cloth Placemats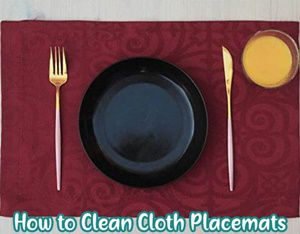 Cloth placemats are the most durable and are the best placemats for everyday use. From daily usage to special occasions, they are a perfect fit for every moment. But, we do have to deal with spills and stubborn stains as well, which comes with every dining.
You can also wash cloth placemats in the washing machine if the material allows you to do so. Follow the below-mentioned steps to wash the stained placemats.
Step 1: Inspect the fabric. If it can be washed in a machine, simply add detergent and fabric softener in a washer and select a washing cycle.
Step 2: After taking it out from the washer, give it a good shake to remove the wrinkles and air-dry it.
Step 3: If the placemat fabric can't be put in the washer, then hand-wash is your best bet. As with all the stains, you should clean it immediately. If the stain is dried, scrape it with a dull knife.
Step 4: A stain-removal spray works best for stubborn stains like sauce or ketchup. It is recommended to select a spray that doesn't have harsh chemicals.
Step 5: Oily stains on fabric can be treated with pre-soaking in hot water and detergent. Coldwater can set the oily stain. Similarly, red wine stains can be treated by soaking them in milk.
Step 6: After pre-treating your stains according to the nature of spots, rinse it gently with water and detergent and let it air dry.
Things to Avoid
Do not use detergent with harsh chemicals or bleach; it will discolor the placemat.
Do not dry the placemat until the stain is completely removed. Otherwise, the stain will be set and hard to remove.
Do not put your placemats in the dryer. Always air dry them.
Always ensure that placement fabric is colorfast before soaking them into water.
Are Placemats Machine Washable?
Placemats made with fabric such as cotton, linen, or quilted placemats are machine washable. But do check the color of fabric placemats don't bleed. Some embroidered placemat doilies are also machine washable but check the manufacturer's instruction as some laces and doilies are too delicate for the machine. Jute, bamboo, vinyl, or leather placemats are not machine washable. You can clean them with a soapy sponge before wiping them with a clean damp cloth.
Wrapping Up!
Placemats can last a long time if they are adequately taken care of, and the best time to remove stains placemats is to clean them immediately. Stubborn stains are harder to treat but not impossible. We hope our above-mentioned placemat cleaning methods will help you to make your placemats spotless.