Kitchen Under 100 is supported by our readers. When you purchase an item through links on our site, we may earn an affiliate commission.
A newly bought set of placemat can practically become useless if it gets stained by oily food, ketchup, or wine spills unless you have no issue with placing stained placemats in front of the guests or even family members. A wrong purchasing decision may result in that happening, as some placemats can't be cleaned easily. When it comes to cleaning the placemats, they can be cleaned in one of the following ways.
Wipe clean only
Hand-washed but can't be scrubbed hard
Hand-washed and can be scrubbed
Machine washing
Dishwasher washing
After test cleaning of 35 different table mats in washing machine and dishwasher, we have picked the best washable placemats that give a new look after washing. You may also like to check our recommendations for the best placemats for wood table and placemat for toddlers.
As everyone knows, it depends on the make and material of the placemats. Placemats made for messy, rough, and tough use are easy to clean placemats, and they last longer than other flimsy and showy placemats. Such placemats can be refreshed and renewed after every meal, and they last longer.
NOTE: It is recommended always read the manufacturer's cleaning instructions and opt for the material that requires low maintenance in cleaning them.
10 Best Washable Placemats 2022 | Waterproof and Machine Safe
To help you in choosing the right placemats, below are our top recommendations for washable placemats that are highly budget friendly and kept our promise of brining the best kitchen products under 100.
1. Solino Linen – Best Washable Handmade Placemat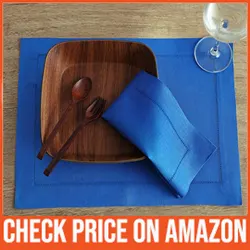 Anything made with linen, be it bedcovers, tablecloths, or placemats, gives a luxurious experience.
Solino placemats, being made from 100% natural linen, are simple and elegant. You can't go wrong with handcrafted placemats. They have mitered corners, deep hemstitches, and the right amount of detailing that attracts your guest attention.
These placemats are available in an array of different colors. The best part is that collection of Solino placemats include coordinated napkins, table runners, and tablecloths to give your dining table a finished and harmonized look.
You can use the whole collection for any formal dinner, holidays or you can even use them for everyday dining. The primary reason these placemats ended in our list is because of their ability to be machine washed.
So, the oil, ketchup or wine stains won't make you frown as you can throw them in the machine, and voila! They will come out as clean as you just bought them.
But let me tell you an interesting fact. Linen is made from natural flax fibers which are breathable and absorbent but not really flexible. So, the wrinkles may appear on them. However, these natural wrinkles only add to the charm of it. You can steam iron it to give it a crisper look.
PROS
The material is stain resistant
Available in 15 attractive colors
Machine washable; make its cleaning easy
It won't fade or shrink after wash
CONS
These placemats are not thick
Some wrinkles are difficult to remove after wash
2. SD SENDAY – Best Non Fading Table Mat
These easy-care sets of placemats are crafted with Vinyl, one of the most stain-resistant materials for mats. These rectangular shaped placemats have subtle and fresh earthy tones, and its exemplary woven vinyl textures makes it perfect for any occasion.
Now, let's talk about placemats cleaning methods. Since they are stain-resistant placemats, the stain won't get absorbed in the fibers of the material Vinyl and can be easily cleaned.
You can even use a brush with soapy water to get any tough stains clean. On a regular basis, you can simply wipe it, and you are done! However, the placemats made with Vinyl can't be washed in a machine.
Sendey placemats are the perfect combination of the best heat-resistant and washable placemats to protect the table from heat, scratches, and stains.
According to my findings these mats are thicker than other vinyl placemats, and you can put your hot plates or pots under 100 degrees celsius without worrying about heat marks.
Moreover, the placemat doesn't have any rough edges as the edges are cut smoothly with corner sealing technology. Combined with coordinating table runners, these earthy-hued placemats are perfect to grace any event.
PROS
Durable and stain-resistant material
The mat is heat-resistant up to 200°F
Both sides of the mat are slip-resistant
Easy to clean and washable
CONS
Weave is not tight enough to prevent spill leakage
Shrink a bit after washing
3. BeChen – Best Dishwasher Safe
Third in our list is also made from durable polyester-vinyl woven in different textures and color tones. The variety of patterns ranges from simple to broad stripes and decorative winter patterns.
The huge variety gives you a lot of options for choosing the perfect style for your dining table.
In addition to that, these placemats have great grip, and being non-slip, they serve as the best placemats for glass tables too.
BeChen set of placemats also include matching table runners so you can use them on parties, formal get-togethers, or holiday meals.
Any stylish set of placemats would be an ideal option for dining room décor and would be the representation of your lifestyle. And using placemats with table runners will amp up your whole dining area.
Cleaning stains from BeChen Vinyl placemats is straightforward. Simply wipe it or wash it with water or use detergent for cleaning tough stains. These placemats dry quickly, but avoid washing them in machine.
Another great feature of these table mats is their insulation capability of up to 185 degrees Fahrenheit. So, you can put hot plates and pots on them. However, avoid putting the dishes right after taking them out of the oven.
As they are woven so the liquid may seep through them and stain your table, but if you clean it quickly, it won't damage your precious table.
PROS
Made of eco-friendly & toxic-free material
Provide decent protection from heat
Don't slip and slide around the table
Easy to wash and dry very quickly
CONS
Liquid spills easily pass through the mat
May differ in size due to by hand cutting
4. DII Varigated – Best Machine Washable Placemats
The horizontal streak patterned placemats bring classical beauty back in style to the dining area. Different tonal colors are weaved together that end with knots and fringes at either end.
The collection includes multiple colored whimsically printed placemats and table runners to grace any occasion.
Crafted with 100% pure cotton, DII placemats have a size 13 x 19 inches and 13 x 23 inches with fringes. The beauty of this cotton placemat is the ease of cleaning.
Whenever they get stained, you can throw them in the washing machine, and all the stains will be gone. As a precaution, you shouldn't put them in the washing machine with any other clothing. Other clothing may get fuzz on them. Lay the mats flat in the open air to dry.
The inclusion of well-matched table runners and napkins adds the finishing touches to the tablescape and brings warmth to the dining area.
But here we are sharing a secret with you. Anything that is woven and made with natural fibers would look enticing on the wood table. And since these are 100% made with natural fibers, they are one of the best placemats for wood made dining tables.
Read Full Review: DII Cotton Placemats
PROS
Available in beautiful patterns & colors
Absorbent enough to soak up messes
Decent heat-resistance
Can be hand and machine washed
CONS
Fade and shrink a bit after machine wash
5. Solino Home Pure Linen – Best Water-Resistant
Linen is another name for comfort and reliability. Solino placemats are a simple and elegant foundation for your dinnerware. The specialty of lines is its timelessness.
If simplicity is your way of expression, then these home linen placemats are just for you.
Flax-based linen has the quality of being bacteria resistant and moisture absorbent. These placemats are handcrafted by skilled artisans and are close to perfection with their classic aesthetic look.
No matter these placemats go through how many messy eaters, they can be washed in a washing machine to remove all the stains. The long-lasting linen material of this mat gets soft with each wash and needs to be steam ironed for a crisp look on the dining table.
Available in an array of colors, these small table cloth have a regular rectangular size of 14 x 19 inches, which is perfect to put all your dinnerware and glasses on them.
Mix, match and layer them with coordinating napkins, table runners, and tablecloths to give a luxurious and sophisticated touch to your tablescape.
You would be surprised to see your dining table transform from an everyday to instagrammable look with the right choice of placemats and accessories.
Read Full Review: Solino Home Pure Linen Placemats
PROS
Beautiful hand crafted placemats
Highly durable and long lasting
Slip and heat-resistant mat
Can be used indoor and outdoor
CONS
Catch wrinkles after washing
Heat-resistance is not up to the mark
6. Home Brilliant – Best Easy to Clean
If you are looking for a set of fabric placemats that do not catch wrinkles, then synthetic fiber placemats will work best for you.
Home Brilliant placemats are made of synthetic linen-textured polyester material that can outshine natural linen in terms of non-wrinkling effect.
Placemats for everyday use shouldn't have to be boring. The understated style and various tonal choices of these non-wrinkly placemats make them a stylish statement to your dining area.
These are machine washable placemats, so you don't have to worry about kids dousing them in juices or guests spilling wine over them.
It is recommended not to wash any other clothing with a placemat in the washing machine and avoid using bleach or any harsh detergent.
Home Brilliant placemats are available in a size of 13x 19 inches, which is 1 inch more than the ideal size of placemats. Since these placemats are crafted with hands, so you might get a slight difference in size. However, the size variation will only make it close to an ideal size.
Whether you are using it every day or hosting a special gathering in patio, these exquisite placemats will create the perfect atmosphere for the dining experience and impress your guests.
PROS
Durable & long-lasting placemats
Thickness protect table from heat
Don't fade or shrink after wash
Very easy to clean
CONS
Difficult to remove juice stains
Drying takes a lot of time
7. Dolopl – Best Water-Proof Placemats
Material of washable placemats matter when it comes to cleaning them. If having a set of placemats that are easy to clean is your first priority, then nothing is better than the Dolopl placemats made of Vinyl material.
Dolopl placemats may look simple, but when they are placed on the table with dinnerware, they create a lavish look.
These placemats come in four varied colors: beige, black, blue, and grey. The color choices of such modish placemats with subtle texture are well suited for the indoor and outdoor table.
These placemats set the mood for BBQ night or festive dinners with their simple signature style.
Vinyl PVC material is not machine washable but can be cleaned easily by wiping or even soaking in warm soapy water.
With 18 x 12 inches size, they can be placed on all kinds of dining tables. Whether you want to enjoy evening coffee or having a late-night snacks, these placemats will be your go-to choice for any activity.
The simple color palette and the uncomplicated design of the placemats keep your dining space uncluttered and incorporates well with the dining room interior.
We found the material of these mats stain resistant, non-fading, and have a strong grip. So, the placemats won't slip even on the glass table.
PROS
Made of premium quality material
Decent thickness protect table from heat & spills
Wipeable and washable placemats
CONS
These placemats are not slip-resistant
8. Bright Dream – Best Hand Washable Mats
Bright Dream placemats are made of 70% PVC and 30% polyester; the combination makes the placemat heat-resistant and durable. The specialty of the Bright Dream placemat is its huge range of varied color tones, textures, and patterns.
The vast variety will surely want you to splurge not only on one set of placemat but two to three sets at the same time.
From muted tones to vivid bright colors, the placemats are not only going to win you over but will also impress your guests.
The dinner parties and festive feasts leave stains on placemats but with Bright Dream placemats, cleanliness will be like a breeze. You can immerse them in detergent water and wipe to clean them. For tough stains you can use a soft brush.
The placemat material can bear up to 100 degrees Celsius of heat, making them convenient to use as you can put hot plates and pots over it easily.
These are not waterproof placemats, so water spills should be cleaned immediately, especially if you are using them on wooden dining tables.
Read Full Review: Bright Dream Heat Resistant Placemats
PROS
Both sides of the mat are slip-resistant
Protect table from heat and scratches
Best placemat for wood table
Can be wiped and hand washed
CONS
Not machine washable
Packaging is not good
9. DII Chindi – Best for Every Day Use
"Chindi" stands for "leftover." The DII placemats are made from leftover material, thus precious to those who appreciate and value the recycled or environmental friendly natural material.
These handmade placemats are the symbol of expert craftsmanship of skilled artisans as they are hand-loomed. It is what makes them unique from other machine-made placemats.
The exceptionally stunning Chindi placemats are available in three different colors: neutral, varied hues of blue, and multicolor. All three colors are perfectly aligned with the design and set the mood for any dinner party.
If multicolor brings the fun aspect to the table, then neutral color creates calmness in the environment.
They are washable in machines and won't fade even after various washing cycles. These are the best placemats for everyday use.
Decent thickness and the texture gives the placemats a good grip, making them one of the best non-slip placemats. Thick size of this table mat enables it to resist well against hot dishes and bowls.
With such placemats, you will forget your worries about your dining table getting ruined due to heat marks and scratches.
PROS
Thick and very durable placemats
Reversible design, allow you to use both sides of mat
Can be machine washed
Good for indoor and outdoor use
CONS
Color differ a bit from the sample images
10. Aonewoe – Best Stain Resistant Placemats
The last washable placemat in our list is made of premium quality felt material. The felt is a thick cushiony-material that can handle heat and liquid spills very well.
These placemats are available in grey and black tones. The make of this placemat enables it to form a firm grip with the table. The color palette, thickness, and grip of these placemats are perfect for your contemporary style glass and marble dining tables.
They have the standard rectangle placemat size of 18 x 12 inches. These placemats can be used every day, or you can use them occasionally in gatherings.
Both sides of the placemat can be used as there is no difference in texture on either side.
Forget your worries of a ruined dining table from heat marks as the material of this placemat is capable of insulating heat, and you can place steaming bowls and plates over it.
You can also use them in the kitchen for placing bowls and pans taken out of the oven.
Another interesting fact about this elegant looking mat is, it is a machine washable and dishwasher safe placemat. You can easily rinse them after every use, which is impossible if you use cotton or linen placemats. Machine washing can easily take care of food stains and spills.
PROS
Top-quality fabric make them sturdy & durable
Stain-resistant surface
Thick enough to protect table from hot dishes & plates
Machine washable
CONS
They slip and slide around on smooth surface
Takes a lot of time to dry
What are the Best Washable Placemats?
Solino Home
SD Senday
BeChen
DII Varigated
Solino Pure Linen
Home Brilliant
Dolpol
Bright Dream
DII Handmade
Aonewoe
Wrapping Up!
Placemats are not for ornamental purposes only; you eat on them, keep heated bowls on them. Families with kids especially need such placemats that can be washed as you can't ever control kids from making a mess on the dining table. All of this results in greasy food stains on placemats. If you have a set of placemats that you can easily wash, it would mean you can use the same set over and over again. It's like an investment. To help you choose placemats, we have reviewed the best washable placemats so you can make a better buying decision.